One month with Apple Arcade
It´s been a month since I´ve started a trial version of a new video game subscription service Apple Arcade. Is it worth to pay for?
If you are not familiar with a definition of Apple Arcade, it is basically a video game subscription service by Apple. You'll pay a monthly fee of $4.99 and get an access to a selected game titles. These games have no ads and no in-app purchases. Apple Arcade is available on iOS, iPadOS, macOS and tvOS devices. You can also carry over your in-game progress between your devices which are linked to the same iCloud account, which is great. It basically means, that you can start playing on your iPhone on a subway and then continue at home on Apple TV or MacBook exactly at the point where you left.
Controller support and fair price
There are currently dozens of games on Apple Arcade and you can expect more to come in the future. You can play some of these games also with a controller such Dualshock 4 or Xbox One controller, which are supported since latest OS updates. So, how I rate the service based on first month? Well, I must say that I am surprised and it is kind of great. Some of the games are splendid and offer a lot of fun. Many of them are Apple Arcade exclusives and some of them can be found on other platforms, but you must pay for them and it is not always exactly cheap. With Apple Arcade you get a lot of games for $4.99 or 4.99 € per month and I think that's a fair price.
I didn't have the chance to play all games Apple Arcade provides, but the ones I play were interesting, funny and totally worth my time. I'll give you a few examples of which games you should definitely try if you plan to become a subscriber of latest service from Apple.
Sayonara Wild Hearts
I wrote a whole dedicated article about Sayonara Wild Hearts, which is one of the most pronounced games of Apple Arcade. It is fast paced runner in which you are changing between lanes and avoiding obstacles. Concept is easy to learn but hard to master. Playing Sayonara Wild Hearts is deeply satisfying and it's all wrapped in stylish visual which is perfectly supplemented with music. And you couldn't want better soundtrack than this. Game is beautiful to look at and also a joy to hear.
You can play it with one finger and the levels are short so it's a perfect companion for your morning commute. But you will probably want to play it even where you are not bored.
Pilgrims
Pilgrims is the latest release from Amanita Design, a studio behind Machinarium or Chuchel. It is again a hand-drawn adventure, but this time it´s mixed with a card collection. Every card represents a unique character or a tool which you can use later on. It´s up to you how you solve the various tasks, because there is not always just one correct answer.
You can always try to combine different things with different characters, even when there is no logic behind it. You will be at least rewarded with some funny animations and unexpected outcomes. Pilgrims is a humorous game with a slow pace and a perfect choice when you just want to relax.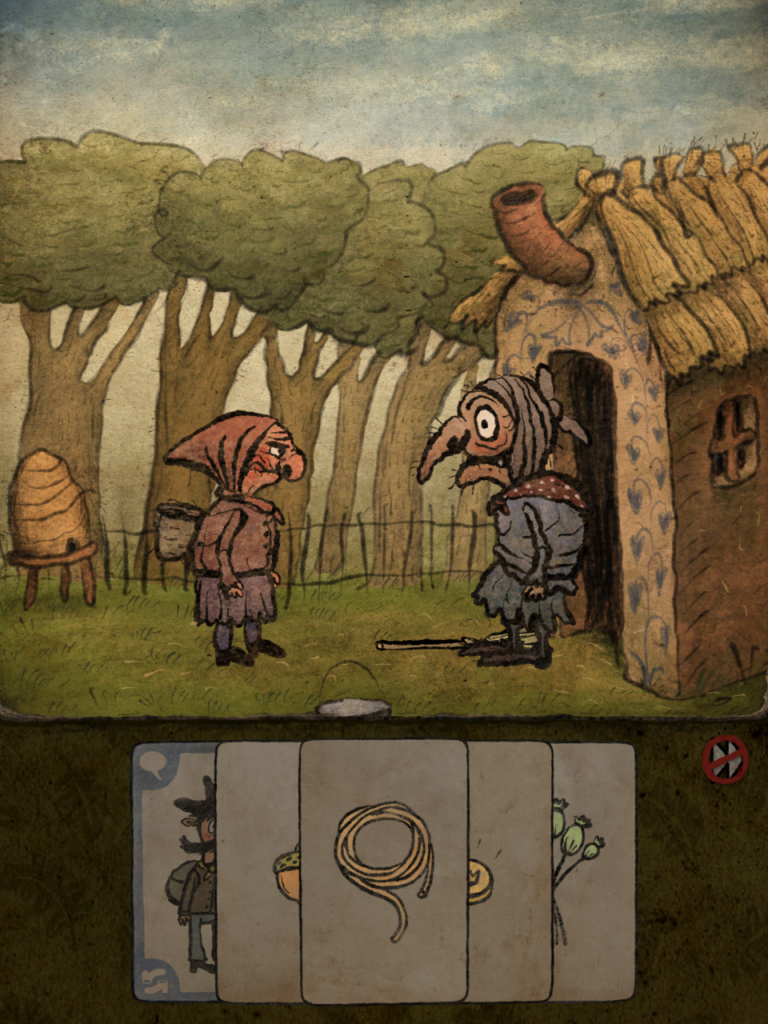 What the Golf?
I am not a big fan of golf and when I saw a title "What the Golf?" on Apple Arcade I wasn´t interested. But then I read some really positive reviews and decided to give it a try. And oh boy, it is a fun. It´s a golf game which is not exactly about golf, or at least about golf as you know it.
As developers says on their website: "A silly physics-based golf parody where every golf course is a new surprising type of golf, some brilliant or hilarious, others so absurd they will make you go: WHAT THE GOLF?. And that´s it. It is a golf parody, it´s absurd and it´s going to surprise you with every new course. But the most importantly, What the Golf? is catchy and funny and you will always say to yourself: "just one more course and I´ll go to bed", but you don´t.
Neo Cab
In Neo Cab you will more read than play. It is a visual novel in which you´ll play as a driver-for-hire Lina. She is a last human driver in the streets of Los Ojos, the city where automation took over. The game has a cyberpunk feel and visuals. You will choose passengers and navigate them through the city. They will tell their stories and you have to choose from dialog options.
But be careful, because the choices you make have an impact on your mood and your mood will affect what you can say. If you like visual novels, you should give Neo Cab a chance.
Oceanhorn 2: Knights of the Lost Realm
If you happen to be an RPG fan, Oceanhorn 2 might be for you. Its resemblance to The Legend of Zelda is undeniable. It has beautiful, colorful graphics, a lot of quests with hours of gameplay and typical gameplay for this genre. You will fight with a plenty of monster and also solve numerous puzzles. And the game is even better when you have a controller to play with.
In the future when I play some more games on the Apple Arcade I will probably write another article with some tips. Apple Arcade is second subscription service from Apple after Apple Music. And there is one more to come. From the 1st of November Apple TV+ is launching and it will offer movies and TV series for one monthly subscription, similar to Netflix, HBO GO, Amazon Prime Video or upcoming Disney+.