New iPhone 13 series: incremental updates, but nothing breathtaking
As expected, Apple announced at its September's keynote the iPhone 13 series and some other products which were rumored before, like new iPads and Apple Watch 7.
iPhone 13
The most anticipated products were new iPhones, which are regularly the stars of September's events. This year we will get four new models, the same as last year. These models are iPhone 13 mini, iPhone 13, iPhone 13 Pro, and iPhone 13 Pro Max. Design is mostly unchanged from the last year, the only two differences seem to be smaller notch and different camera lenses layout on the back of iPhone 13 mini and iPhone 13. 
One of the biggest updates this year is the addition of a high refresh rate display which Apple calls ProMotion. New iPhones now have an adaptive refresh rate up to 120Hz. But not all iPhones 13, just the Pro ones. This is a disappointment for me. High refresh rate displays have been available on Android smartphones for years now and you can find them even on models under $300. Not only is Apple late to the party, but you won't find the ProMotion display on the iPhone 13 which cost $799. 
Apart from ProMotion, displays on new iPhones are now brighter. We should also see improvements with the cameras. All iPhones 13 now have bigger sensors, but it's hard to tell just by the numbers, how much better they are compared to iPhone 12. But the reviews will soon tell. Inside the iPhone 13 is Apple's new A15 Bionic chip which has "50% faster CPU than the competition and 30% (50% in case of iPhone Pro) faster graphics than the competition", according to Apple. And I believe them. Apple has a long history of having the fastest chips on the market, so no doubt it's going to be a beast. 
128GB base memory
Another welcoming update is better battery life across all models compared to last year's devices. And what else? Apple finally got rid of 64GB models, so now all entry-level iPhone 13 models are starting with 128GB memory. Nice. And if you buy an iPhone 13 Pro you can go all the way to the 1TB. Not that you need it. 
This year's iPhones could be called 12S and no one would protest. Improvements aren't that dramatic. Displays are brighter and faster (Pro Models only), performance is better than ever, but you probably won't notice since last year's models are still lighting fast. And now those iPhones last longer. Even if the entry models have twice the storage, the price is remaining the same as last year. You will be able to buy them from 24 September starting from $699/iPhone 13 mini, $799/iPhone 13, $999/iPhone 13 Pro, and $1 099/iPhone 13 Pro Max. 
iPad and iPad mini
We've also seen new iPads on stage. The iPad Mini finally got a redesign and is now looking like a smaller iPad Air. Bezels got shrunken and touch ID is integrated into the home button at the top. The display is bigger – 8.3-inch compared to 7.9-inch on previous iPad mini models. Inside is the same A15 Bionic chip as in the new iPhones, so no worries, this iPad will stay fast for years.
Apple is also changing the Lighting port for the USB-C and it's now in line with iPad Air and Pro. The iPad mini also has support for the 2nd generation of Apple Pencil.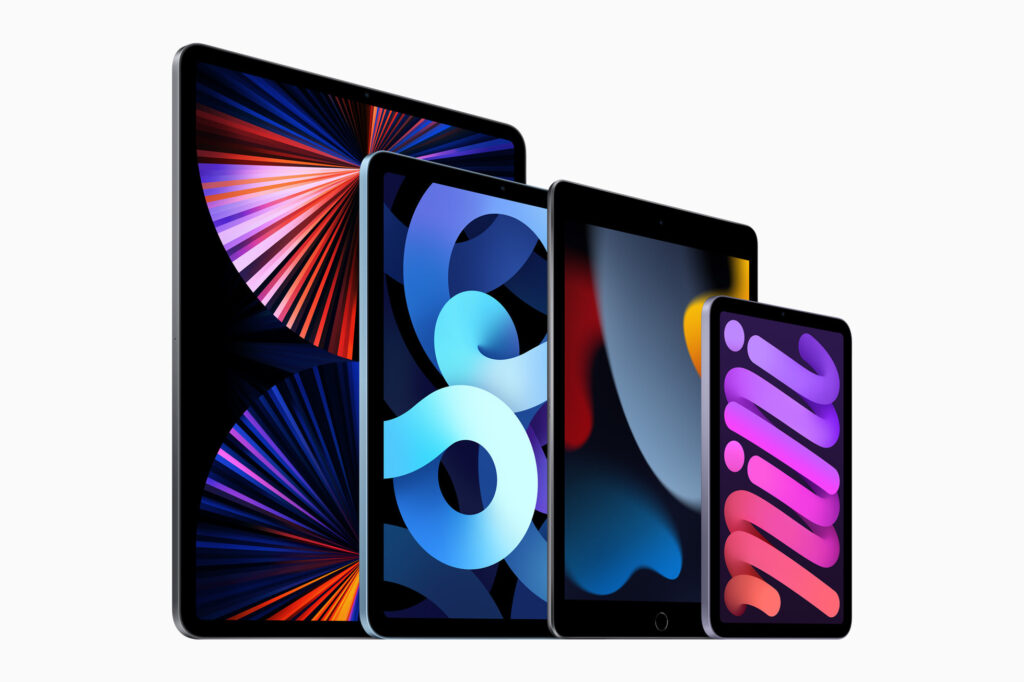 The other updated iPad was the regular, cheapest iPad. And the 9th generation doesn't bring many changes. It still has the same design. It may be iconic, but it looks outdated to me, and I wished Apple would change it. Maybe next year. And also don't expect the USB-C. This is now the only iPad with a Lighting port. What's new are basically two things – a faster A13 processor (it debuted in iPhone 11) and 12MP ultra-wide front camera with center stage. It's the camera we've seen in the latest iPad Pro and its center stage feature automatically pans the camera as users move around to keep them in view. It's a nice addition and it is also available on the iPad mini. 
Apple Watch Series 7
And finally, there is also a new Apple Watch Series 7. The most visible change is the updated design. There are two new sizes – 41mm and 45mm, which means that displays are bigger and bezels smaller. But even if the watch size is different, older Apple Watch Bands are compatible. 
Apple is also saying that Series 7 are the most durable Apple Watches ever. We'll get the same battery life as last year, but charging should be 33 percent faster. And this is basically what's new. The rest of the watch seems to be unchanged. 
These are the products that Apple showed us at the September event. We can probably expect another event in October or November, where the new MacBooks and maybe AirPods could be announced.