It's been a year since PlayStation 5 launched. How it's doing?
A year passed since the release of next-gen consoles – PlayStation 5 and Xbox Series S/X. Let's sum up the good and the bad of the first one. 
PlayStation 5 launched on November 12, 2020, in a few countries, including USA and Japan. The worldwide release followed a week later. Although it's been a year since launch, I didn't get my PlayStation 5 till June 2021. And one year later, it's still hard to find one in stock, mainly because of chip shortage and huge demand. 
This article is a sum-up of PlayStation 5 first year and my review of its offering. Let's dive in.
The power and speed
I read and watched many reviews about PS5, and everyone was saying that the new Sony console is massive. So I expected it. But I was still surprised by how huge it was after I opened the box. It will stick out in your living room or any room. I like the design though it's futuristic and slick. I went with the version offering Blu-ray disc drive. There is also a Digital Edition, and I like its symmetrical design better.  
There is no doubt that PlayStation 5 is a powerful console, much more than its predecessor PlayStation 4. But we are still not getting the 4K/60fps we were promised. Sure smaller or older games may run in native 4K resolution at 60 frames per second, but otherwise, we have a choice between 4K/30fps or 1080/60fps. It's still great to have this option, though. In some games, I may prefer to have better visuals, in others higher framerate is more suited. 
But it's not the power of the processor or graphic chip that makes this console generation much better. It's the SSD. Loadings on PS5 are significantly shorter than they ever were on PS4. And thanks to that game like Ratchet and Clank: Rift Apart is possible – where surroundings around you change in seconds. You never need to wait minutes when starting a game or load your last saved game. It's an enormous improvement and probably the best feature related to the console's performance. 
I don't mean to say that graphical improvements are not visible in games. They are. We also have features like raytracing now, and games are looking better, more detailed when compared to PS4. But it's not as huge a leap as we saw in generations between PS2 and PS3, or even between PS3 and PS4. Maybe we need to wait, and in the future, we will see more graphically jaw-dropping games, which were designed specifically for PS5. Because the majority of PlayStation exclusives you can play right now on PS5 are also playable on PS4.
PlayStation 5 games
Let's talk about games now. When it comes to Sony consoles or consoles in general, the system sellers are mostly exclusive games. PS5 launch titles selection wasn't weak, but it wasn't great either. Largely because exclusives like Spider-Man: Miles Morales and Sackboy: A Big Adventure were released on PlayStation 4 as well, which means fewer reasons to upgrade right away. Another exclusive Demon's Souls was a remake and not truly a new game. But don't get me wrong, these are still great games, which are worth playing. 
And what other exclusives did we get in the first year of PlayStation 5? Well, I need to say that the biggest, the most anticipated titles were either delayed or not planned until 2022, including God of War Ragnarok, Horizon Forbidden West, and Gran Turismo 7. That's a bit of shame, but at least the next year will be packed with the best of what Sony has to offer. 
That doesn't mean this year was without compelling games. Ratchet and Clank: Rift Apart released in June was a great illustration of what PS5 is capable of, mainly in terms of SSD speed. And it was also a great game. Returnal and Deathloop were also getting many positive reviews.
So there were some great games in the first year of the PS5 lifecycle, but I am hungry for more. It is a bit disappointing that Horizon Forbidden West and Gran Turismo 7 were delayed into 2022. And there is not much to offer from Sony during this holiday season.
Bye DualShock, welcome DualSense
With PS5, Sony stopped using the name DualShock for its controllers. They went with the name DualSense instead. And it's much improved. It is bigger than DualShock 4 but feels great in hands. The layout and the buttons are not very different from the DualShock 4, and the touchpad is still here. The new and welcome addition is a USB-C port for charging instead of micro-USB.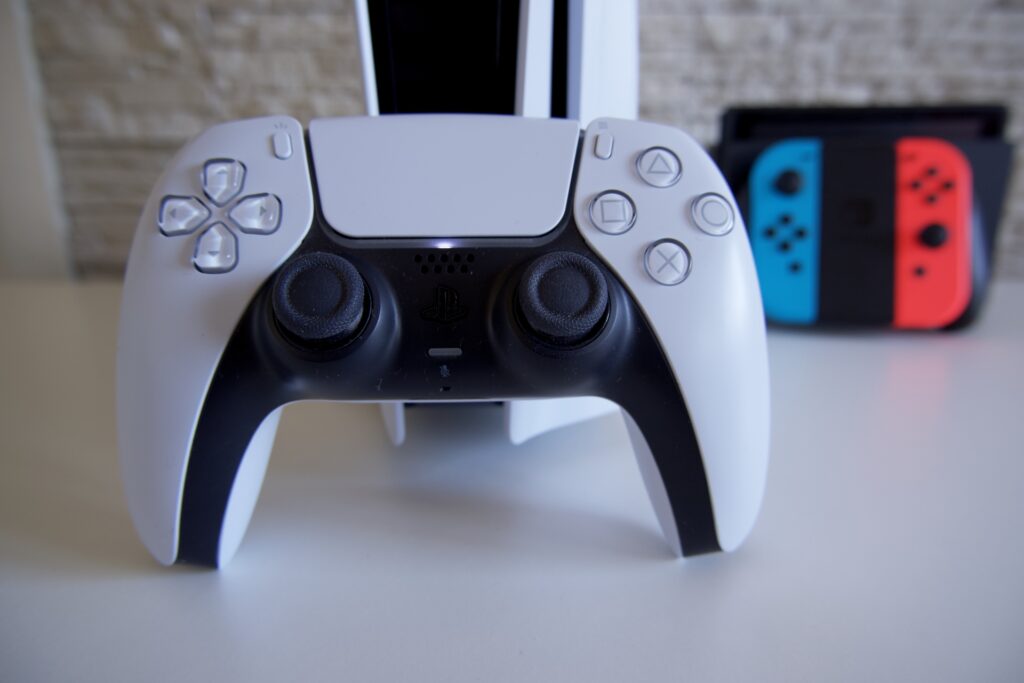 But the best new features are called adaptive triggers and haptic feedback. When pulling triggers L2 or R2 you will feel variable resistance. It depends on the situation in the game, for example, if you are going to shoot from a bow and pull a string, there is resistance like you would expect from this situation in real life. 
Haptic feedback is also much better than regular vibrations you'll find on any other gamepad. Vibrations vary based on the different situations and surfaces in games. The best showcase of new DualSense features is Astro's Playroom, a free title pre-installed on every PlayStation 5 console. 
Unfortunately, adaptive triggers and haptic feedback features are only as good as their implementation by developers. It means that in some games you may barely notice them. Or they can be missing at all. And I would say that these features will probably use their full potential just in the case of big titles from Sony's first-party studios. But I may be wrong.
I still need to say that the DualSense controller is great, and it's a pleasure to use it. It's one of the best parts of the PS5 console. 
The software, apps, and backward compatibility
The user interface is minimalistic and easy to navigate, which I like. From the beginning, it also looked a bit unfinished, but Sony is slowly adding new features. At the top, there are two tabs: Games and Media. First is pretty explanatory, and in the Media tab, you'll find all the popular streaming apps like Netflix, Spotify, Disney+, Apple TV, and Apple Music. It's great to have this option, and I am frequently using PS5 as a multimedia device.
The great news about PS5 is, that it's offering backward compatibility for PS4 games, whether you have them on Blu-ray disc or your PS account. The downside is that PS4 titles won't utilize higher processing power or faster SSD on PS5 unless they are updated by developers. It was also chaotic when there was a game with a version for PS4 and PS5, and I wasn't sure which one I downloaded from the PS Store. Thankfully Sony released an update that made it easier to distinguish which version users are preparing to download. And now there is also a little badge in the menu next to the title of the game saying if it's a PS4 or PS5 game. 
DualShock 4 is also somewhat compatible with PS5. But you can control only PS4 games with it, which is a disappointment for me. On Xbox Series S/X you can play any game with an older Xbox One gamepad. When you want to play the PS5 game with a friend, you'll need a second DualSense, which makes no sense (pun intended) to me. DualShock 4 has the same buttons as the latest PS5 controller, and any game would be perfectly playable with it. 
I have both versions (PS4 and PS5) of FIFA 21 installed because I own DualShock 4, and it wouldn't work with the PS5 version. I wish Sony would change that in any future update. But it probably won't happen, since it would be limiting the sales of DualSense.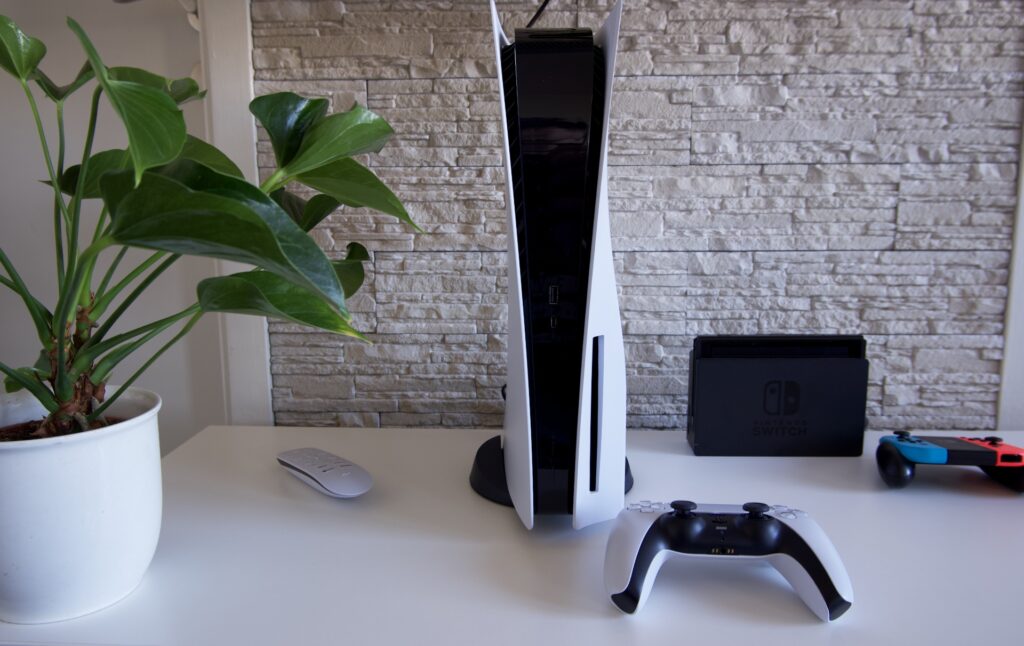 Conclusion
First-year of PlayStation 5 on the market wasn't without issues. Many people are still waiting for the opportunity to buy it since it continues to be a scarcity. Backward compatibility is far from perfect because the system lacks some features, and many AAA games from Sony's first-party studios won't be available until next year. 
But I still love it. The SSD is lightning fast, and endless loadings are a thing of the past. Even if not every new game is 4K/60 fps, at least I can choose if I prefer graphic quality or performance. DualSense is the best controller Sony has ever created, and PS5 is much quieter than PS4 was. There is a lot to like, but there is also room for improvements. Competition doesn't sleep, and Microsoft's latest Xboxes are more tempting than ever, mainly because of the value Gamepass has to offer. Let's see what Sony's response will be.