MacBook Air with M1 chip after one week
I've been waiting for a month and a half, but my new MacBook Air finally arrived. Because of supply chain issues, there are long waiting times for a lot of tech products. Nevertheless, I've spent the first week with a new machine and these are my impressions.
I've bought a MacBook Air with an M1 chip, 8 GB RAM, and 512 GB SSD. My previous machine was a MacBook Pro 13" from late 2013. I've been thinking about upgrading for a long time, but I thought there were too many compromises with previous machines. So I kept waiting until now. New devices with Apple M1 chip seems like a finally good time to upgrade and a lot of reviews I've read about them just reassured me that new chips are worth it.
I decided to go with the MacBook Air, even though I had a MacBook Pro before. I think today there is not a big difference between the two. Touchbar, a fan, and two more hours of already exceptional battery life aren't worth 200 € extra you'll need to pay for Pro. MacBook Air has the exact same M1 chip as the MacBook PRo
Design
Apple has been always doing good looking laptops with sturdy unibody aluminum bodies. The latest MacBook Air is no exception. But this design hasn't changed in a few years. I am a bit disappointed that with new chips Apple also hasn't brought a new design. I still think the design is great, but I wish the bezels were smaller. If you compare new MacBooks to laptops like Dell XPS 13, they simply start to look outdated. There are rumors that redesign is coming this year, but I wish it would happen sooner.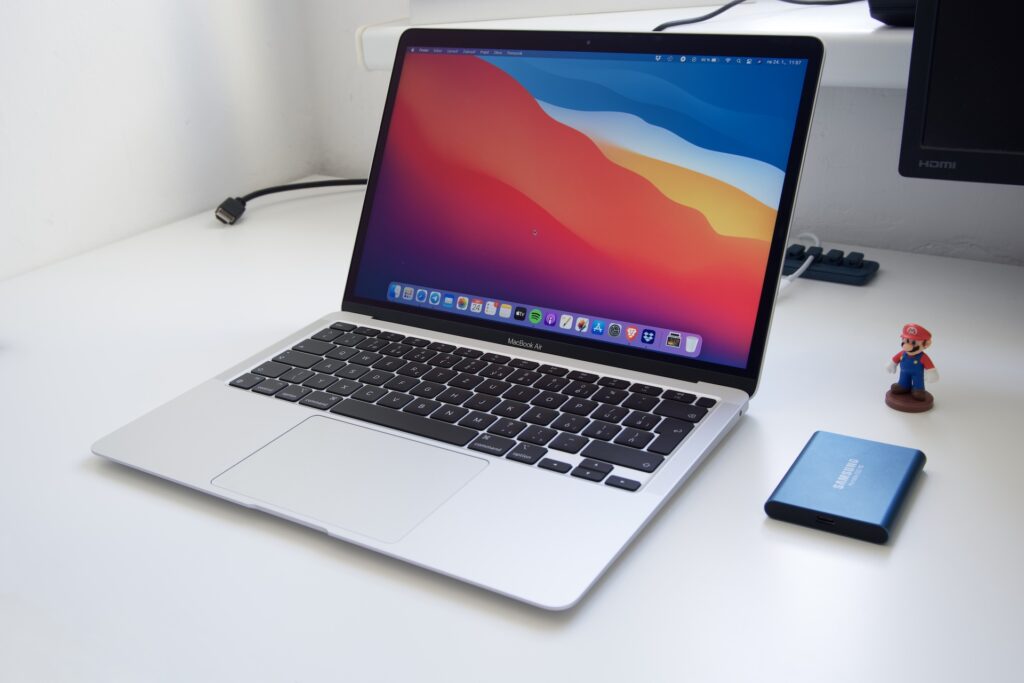 Other than bigger bezels, there is not much left to criticize. The keyboard is perfect and it's a pleasure to type on. Key travel is adequate and writing is comfortable even after hours spent typing. The touchpad is as always best in class. I don't think you will find a better touchpad on any other laptop. It's also much bigger than the touchpad on my old MacBook Pro and I like that.
The body of the MacBook Air is slim and lightweight with width 30,41 cm (11,97 inches), depth 21,24 cm (8,36 inches), height 0,41 – 1,61 cm (0,16 – 0,63 inches) and weight 1,29 kg (2,8 pounds). Port selection is poor as it has been for a few last years. Two USB-C Thunderbolt ports on the left and a headphone jack on the right. That's it. I wish there was at least an HDMI port or SD card slot. But it's not and you need a dongle for that. I already bought an adapter from Anker which broadens the port selection.
The power of the M1 chip
The main star of the show is the new chip, though. Apple replaced long used Intel processors with their own chip. M1 chip is based on ARM architecture and it combines processor unit, graphics unit, and memory on one chip. It's basically the same architecture we find in iPhones or iPads. I was a bit skeptical from the beginning, but now it looks like it was a great decision to make this switch. After the first week, I must say, I am very pleased with the speed and responsiveness of the new machine. It's no surprise that it is much faster than my over seven years old MacBook Pro (I'll make a more direct comparison in a separate article). Opening apps is happening instantly when you click the icon. There is no lag, everything is fluent.
I also did a benchmark test in Geekbench 5 and the result is 1 727 points for single-core and 7 597 for multicore. Very impressive. But it also feels fast in real-life use. Browsing the net with multiple tabs or browsers open with Spotify playing in the background or watching 4K 60fps video on Youtube and laptop doesn't even break a sweat. Everything is fluid and responsive. I even did some photo editing in Pixelmator Pro with 50 MBs Raw photos and video editing in iMovie and had absolutely no issues.
I've been thinking a lot about whether I should choose 8 GB or 16 GB RAM and for now I have no regrets about going with 8 GB RAM. For regular use, it should be sufficient. I also tried some games, even though this is by no means a gaming machine. Dota Underlords was running just fine on high settings, but it also crashed once for some reason. The Apple Arcade game The Last Campfire is running smoothly in native resolution with high settings. I also tried The Pathless, where it was necessary to lower the details, but then the game was running smoothly as well.
Software compatibility
Apple M1 chip is based on a different architecture than regular Intel processors so a lot of people were worried about software compatibility. I can confirm, there is no need to worry. A lot of apps are already M1 compatible, count here all Apple apps and also Office 365, Affinity software, Telegram, or browsers like Chrome or Brave. But even apps that have not been optimized yet are running well.
Apple built Rosetta 2 emulator into macOS Big Sur which enables Intel apps to run on Macs with an M1 chip. How does it work in practice? When you download your first Intel app and open it, the system asks you to download the Rosetta 2 emulator. Once it is downloaded and installed you can start using that app. You don't need to do anything else, the app translation to ARM is running in the background. And you install Rosetta 2 just once. Every other Intel app will open without needing to do anything, so you probably wouldn't even notice that it's not a native app.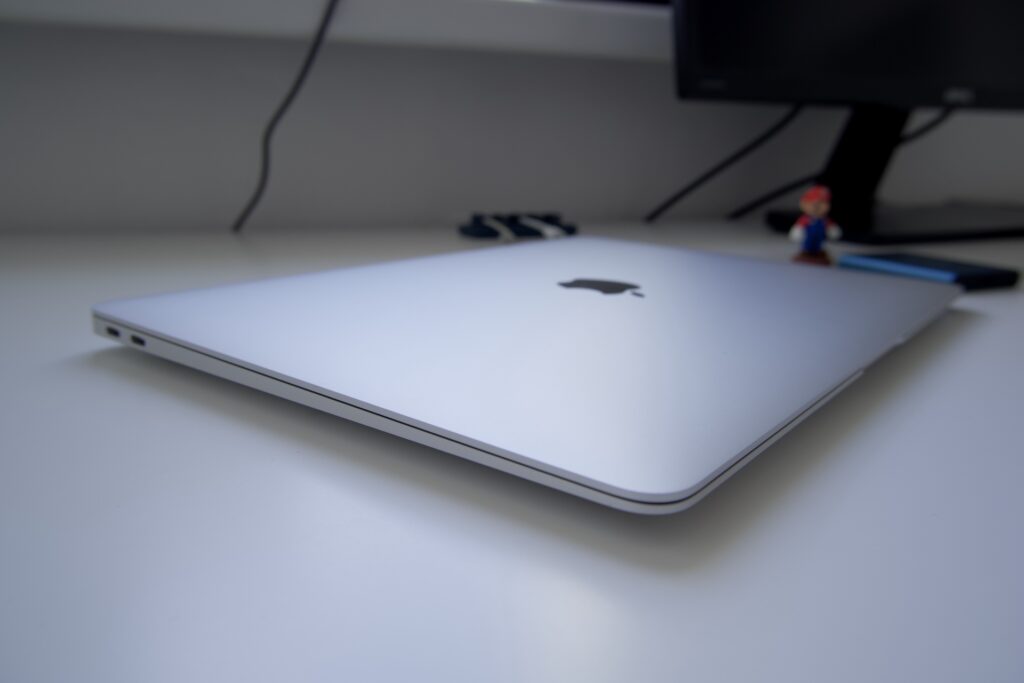 I am using un-optimized apps like Spotify, Trello, Surfshark, or Steam and they are all running very well. The new optimized apps are appearing quickly, so I think that pretty soon the most well-known apps will run natively on M1 Macs.
Display, speakers and webcam
The display has the usual resolution Apple has been using for years in 13" laptops: 2560 x 1600. I think that's the sweet spot for laptops, much better than 1080p and more power-efficient than 4K which is unnecessary for small laptops if you ask me. Everything looks sharp and for the first time, Air is getting support for the P3 color gamut, which means you'll get 25% more colors than with sRGB. There's still no OLED, the refresh rate is only regular 60 Hz, but it looks good.
I am very happy with the sound of speakers on my new MacBook Air. They are loud and clear for the laptop speakers. And they sound much better than the ones on my old MacBook Pro. For regular music listening or movie watching they are more than fine. Apple also improved webcam image thanks to Neural Engine and image processing. But they still use the same 720p sensor which is quite old-gen these days. The resolution is low and the final image quality it's mediocre. It's not the worst, but you would expect more.
Exceptional battery life
Apple made absolutely no changes to the battery used in MacBook Air with an M1 chip. It's the same battery you'll find in older MacBook Air laptops, but thanks to the power efficiency of the new M1 chips, the Air will last on one charge longer than ever. Apple claims you'll get 15 hours of web browsing and 18 hours of movie playback.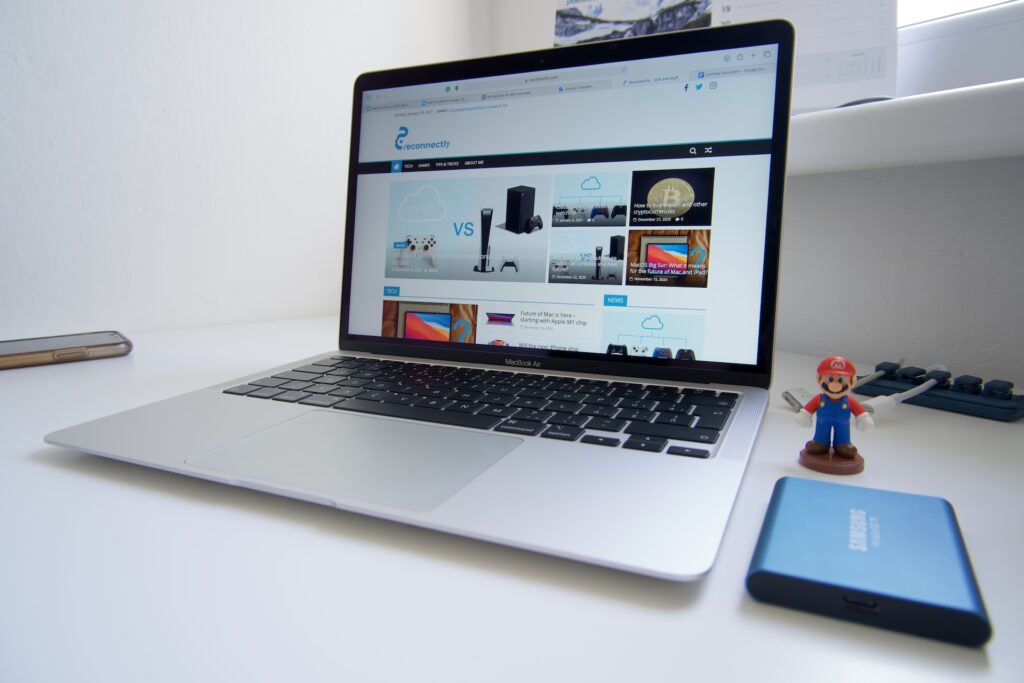 I didn't do the exact tests to verify these claims, but I think these numbers will be about right. Battery life is simply impressive. I was streaming a two-hour movie on Amazon Prime with a fully charged laptop and once the movie finished, the battery was still at 93%. It will last for the whole working day without any issues and you will still have some juice for later.
Thanks to the efficiency of M1 chips there is also one change with MacBook Air – it's completely fanless. Without a fan, there is also no noise. Apple is using an aluminum heat spreader instead, which dissipates the heat. I've had no issues with overheating or thermal throttling so far. But I haven't been using it for very demanding tasks. If you are editing photos or videos daily for hours, MacBook Pro may be a better choice. But for regular use, I don't see any issues the MacBook Air with M1 chip should run into.
Verdict
After the first week, I am very happy with my purchase. The latest MacBook Air is so good that I prioritized it before the MacBook Pro. It's powerful and fast in daily use. Battery life is terrific and thanks to the perfect keyboard and touchpad, it's a pleasure to work with it. I wish the bezels were slimmer and the webcam had higher resolution, yet it is still one of the best laptops you can buy today.