Cloud gaming services to watch for
Future of games may be in streaming. No specific hardware like high-end computers or consoles would be required. Just fast internet connection and subscription to one of the available cloud gaming services.
In a previous article I wrote about the benefits and pitfalls of cloud gaming and explained what it actually means. Now, I will focus on the actual cloud gaming services you can try. They are still far from mainstream, but slowly gaining popularity. There are services from big names in the tech or gaming industry, but also services from lesser known companies. 
Project xCloud
Cloud gaming with Xbox Game Pass Ultimate, or better known under the name Project xCloud is a cloud gaming service from Microsoft. You can get it by subscribing to Xbox Game Pass Ultimate which also includes about 300 games to download to the Xbox One. Over 100 games are available to stream to Android devices, with iOS support coming later.
Cloud gaming with Project xCloud is currently available in 22 countries and it requires an Xbox Game Pass Ultimate subscription, Xbox Wireless controller or other compatible controller and at least 10 Mbps internet connection. 
And what about available games? Good news is there are popular first party titles from Microsoft like Forza Horizon 4, Forza Motorsport 7, Gears 5 or Halo: The Master Chief Collection. But you will find there also other gems like Control, Doom Eternal, Dishonored 2, Dead Cells, NieR: Automata, Resident Evil 7 and many others. You will find the whole list of games right here. The monthly price of the subscription is $14,99 and games are streamed only in 720p resolution.
PlayStation Now
Sony, as the biggest Microsoft's competitor in the console field, has also its own streaming service. PlayStation Now allows you to stream over 800 of PS4, PS3 and PS2 games to your Windows PC, PlayStation 4 or PlayStation 5. Subscription to PS Now costs $59.99 per year which is equivalent to $5/month or $9,99/month when paid monthly.
To play on PC you need to download the PS Now app and connect Dualshock 4 or compatible controller via a USB. Recommended minimum internet connection speed is 5 Mbps. Collection of games in PS Now is updated every month and you will find there Sony exclusives like Horizon Zero Dawn, Uncharted series, God of War series, Metal Gear Solid series and much more. Third party games are also available, such as The Crew 2, Darksiders III or Kingdom Come Deliverance. This cloud gaming service is currently available in 19 countries. Same as with Project xCloud, PS Now also streams games at only 720p.
Google Stadia
Google is also trying to succeed in cloud gaming. Last year it launched a streaming service called Stadia. With Stadia you can stream games to PCs or laptops, phones and tablets, and even TVs with Chromecast Ultra. Stadia offers two tiers – one is for free and the second, Stadia Pro requires monthly subscription ($9,99/month). The main advantage of Stadia Pro is streaming up to 4K resolution with HDR, 5.1 surround sound and frame rate up to 60 fps. Maximum resolution in free tier is 1080p at 60 fps.
As a Stadia Pro subscriber you can also claim free games every month. So it's not completely like Netflix, you are not getting all the content for one subscription. Generally you need to buy games for Stadia. Game selection is pretty limited for now, but you can buy the latest titles like Cyberpunk 2077 or Assassin's Creed Valhalla.
Minimum recommended internet speed is 10 Mbps but if you want to play in 4K, 35 Mbps or greater speed is required. Stadia is currently available in 22 countries. In some countries you can also buy Stadia Premiere Edition, which includes Google Chromecast Ultra and Stadia Controller. Service is also compatible with other controllers and peripherals like mouse and keyboard.
Amazon Luna
The latest addition to cloud gaming services is Luna from Amazon. It's currently available in early access only in the US. Luna is available on PC, Mac, Fire TV, on selected Android phones and as a web app on iPhone and iPad. Early access price is $5,99/month and it will get you unlimited hours of play, growing library of games like Control, Metro Exodus or Resident Evil VII. You can stream games at 1080p/60fps with 4K support coming later. 
Apart from Luna+ subscription you can also subscribe to Ubisoft+ channel which will unlock you game selection from Ubisoft. We can expect that Luna will later offer various channels from various publishers and you will simply choose which channel to subscribe to.
Similarly as Stadia, Luna also offer it's own, specific controller, but service also supports third party controllers. Minimum recommended speed is 10 Mbps and 35 Mbps to play in 4K.
Geforce Now
Graphic cards maker Nvidia is a provider of cloud gaming service Geforce Now. It works a bit differently, instead of streaming games from a service game collection, you can stream games you already own. Just link your Steam or Epic Games account and you can start streaming selected games from your game collection. You will find the list of supported games right here. 
Service is available on PC, Mac, Chromebook, Android and on iPhone and iPad as a web app. Minimum recommended internet speed is 15 Mbps, but for 1080p/60fps you will want to have at least 25 Mbps. The advantage of Geforce Now is a free version, which is limited to 1-hour session length. With Founders edition costing $24,99 for 6 months you will also gain priority access, extended session lengths and RTX support.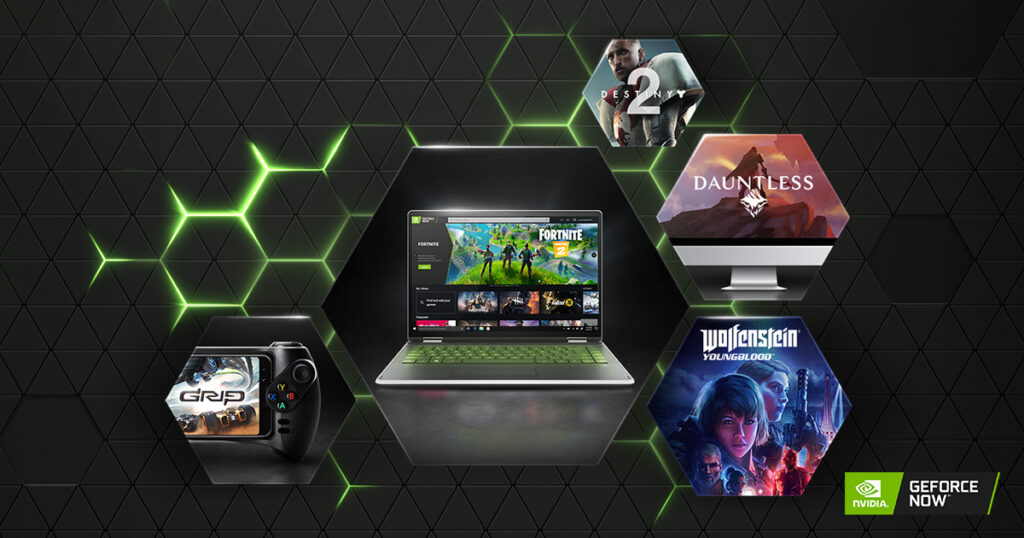 Shadow
The claim of Shadow is "Get the power of a high-end gaming PC, on devices you already own." And that is what this service offer. With a subscription you'll get acces to gaming PC which will stream games to your device, whether it's a PC, Mac, Linux, Android device or iOS device. As a Geforce Now, Shadow also streams games from your own library. 
You can get games up to 4K/60fps or 1080p/144fps. Minimum recommended internet speed is 15 Mbps. Shadow offers three subscription plans – Boost, Ultra and Infinite, starting for $11,99. Those plans represents different PC setups. With Boost you'll get access to PC with 4-core 3,5 GHz processor, GTX 1080, 12 GBs of RAM and 256 GB SSD. Shadow Ultra and Shadow Infinite give you acces to more powerful configurations, but they are not available at the moment. 
Cloud gaming services are just at the beginning of their journey, but they have plenty of potential. There are still limitations and most of them are only available in a few countries, but that will get better with time. The six mentioned services above are not the only one available now, there are also less known services like Vortex, Playkey and Parsec. And I wouldn't be surprised if more of them will appear in the future.