Tips for smartphone games to play during the isolation
Most of the world is now in self isolation due to the novel coronavirus spreading across the globe. If you have a lot of free time, and you have already seen all of the favourite Netflix shows, then I have some tips for smartphone games to play.
These are the games I played during the last weeks and they offer fun but mostly they are a great place if you need to relax. All of them are easy to control, some will tease your brain and at least but not last, they will make time fly. And it doesn't matter if you own an Android or iOS device, all these games are available on both platforms.
Alto's Odyssey
Alto's Odyssey is a successor to a popular Alto's Adventure. In this title you are snowboarding through the desert and completing goals along the way. The game itself has no end, so you are chasing the highest score and the game ends when you crash. It has beautiful graphics, relaxing soundtrack (headphones recommended) and gameplay is deeply satisfying. And you control the game just by tapping with one finger.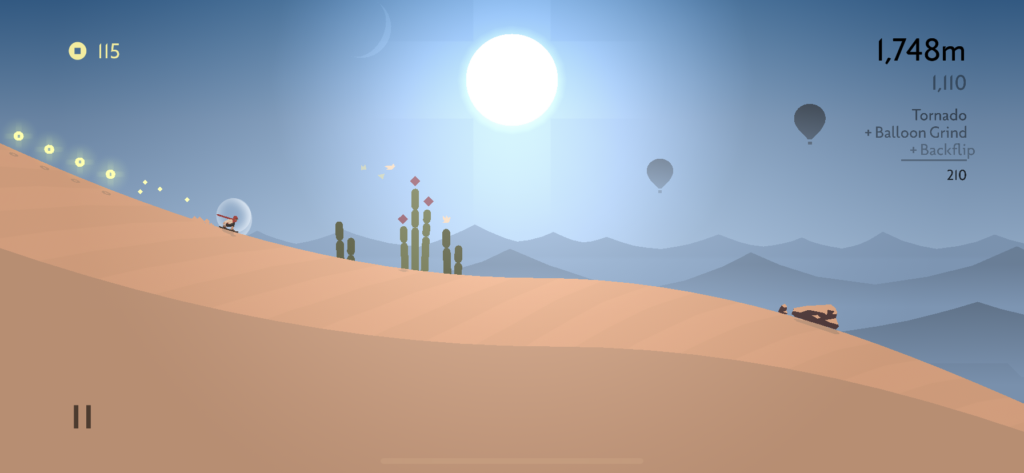 I Love Hue Too
It's all about the colors and different hues. At the beginning you see a picture of coloured mosaic tiles which are quickly mixed and you need to arrange them back. It may seem easy from the beginning, but later on it becomes harder to create an ordered spectrum. It's a puzzle game with a charming soundtrack and yeah, it's one of those where you won't quit the game after one completed level.
Age of 2048: World
Remember the game 2048? It was simple, yet super popular. On a grid consisting of 4 x 4 squares the player role was to push two numbers of the same value together so it makes one tile with double the value. Age of 2048: World uses the same principle but instead of numbers you play with buildings. You choose the country and you'll get buildings or monuments characteristic to that country. Then bump the same into each other and continue to do so. And you will love simplistick, yet dazzling graphics. 
Sticky Terms
"Puzzle through 250 words that have no equivalent in other languages," that's how the creators of Sticky Terms are describing their game. And that's exactly what this title is about. It's a puzzle game where you see a bunch of shapes on the screen. It's up to you to move and rotate them so they become words. And the benefit of Sticky Terms is that you also learn some new words or phrases you never know you want to know. For example, what's the word in Japanese for "looking worse after a haircut".
Monument Valley 2
Another remarkable smartphone game you shouldn't miss is Monument Valley 2. It's a clever puzzler where you are wandering through different architectural structures and solving puzzles by changing the perspective. It's a joy to play. You'll be thrilled by a stunning world, meditative music and colorful visuals. And if you didn't play the first game, I can only recommend it to you too.