Best announcements from Apple WWDC21
Apple is hosting its developer conference every year in June and this year was no exception. At WWDC21, we've got first look at the new iOS 15, iPadOS 15, macOS Monterey, and watchOS 8.
There were also rumors saying the new MacBook Pro 13 and 16 running on a successor to the M1 chip will appear on stage. But none of that happened. This year's WWDC21 was only about software, as is usually the case. 
I not going to mention all of the latest features new operating systems will bring, just the ones I consider to be most useful or impressive for me.
FaceTime improvements
With remote work happening everywhere a lot of people are doing a ton of video conferencing every day. Apple realizes that and new FaceTime should bring Zoom-like features and more.
One of the biggest improvements is the ability to schedule and share FaceTime calls with a unique web link. And through this link even people with Windows and Android can join the call. It's for the first time you can use FaceTime on other than Apple devices.
New Grid view shows people on the screen in the same-size titles with the speaker being highlighted and you can use portrait mode to blur the background behind you. Apple is also adding new microphone modes, like Voice Isolation which minimizes background noise, or Wide Spectrum where the ambient sound is unfiltered. There is also support for spatial audio, the ability to share your screen and listen and watch together features for synced playback with your friends.
Redesigned Safari
Safari is getting a visual overhaul with a streamlined tab bar that takes up less space and floating tabs. Tab groups is a new useful feature that lets you save and organize tabs to your liking. If you are planning a trip, you can create Tab group called Travel and add relevant pages to this tab group, so you have everything in one place. Tab groups are synchronized across your Apple devices. 
Better multitasking and widgets on the iPad
Apple is improving in iPadOS 15 how multitasking works on the iPad. There is a new multitasking menu at the center top of the screen appearing as three dots. After tapping them you can create a full screen, Slide Over or Split View. In Split View, you can swipe down from the top of the app you want to replace and then choose a new one.
When Apple launched new widgets last year, you could place them anywhere on the screen in the case of the iPhone. On the iPad, widgets were surprisingly only available in the sidebar. With the iPadOS 15, it's changing and widgets can be placed anywhere on the screen and in different sizes. App Library will be also present on the iPad which automatically organizes your apps into categories. 
Universal Control
With Universal Control Apple is once again showing how its products can seamlessly interact with each other. This feature allows you to control with one device other devices. As Apple describes it: "A single keyboard and mouse or trackpad now work seamlessly between your Mac and iPad. Move your cursor from your Mac to your iPad, type on your Mac and watch the words show up on iPad, or even drag and drop content from one device to another." To have a better understanding of how it works, watch the video below:
Live Text and Visual Look Up
Live Text gives your device ability to recognize text in photos. It uses on-device machine learning to detect text and allows you to take various actions. If there is a phone number on a photo, you can tap on it to make a call. Or you can copy and paste text, open a website, and more.
Live Text also understands seven different languages (English, Chinese, French, Italian, German, Portuguese, and Spanish), so you can take a picture of a menu in French and have it translated to English with a few taps.
Another feature is Visual Look Up which tells you more about objects or scenes in your photos. You can take a photo of the Eiffel tower, Visual Look Up will recognize it and provide you with more info. You can learn that way about landmarks, works of art, dog breeds, plants, and more. 
Build apps on the iPad
Swift Playgrounds is an iPad app that teaches you the basics of Swift programming. But now Apple is bringing the app capability to a new level. You will be able not just to learn to code, but also to build real apps with SwiftUI which can be published on the App Store.
To be able to create iOS or iPadOS apps you needed Mac before. Now, it will be possible on the iPad. And Swift Playground is going to support improved code completion, so you'll get suggestions for your code.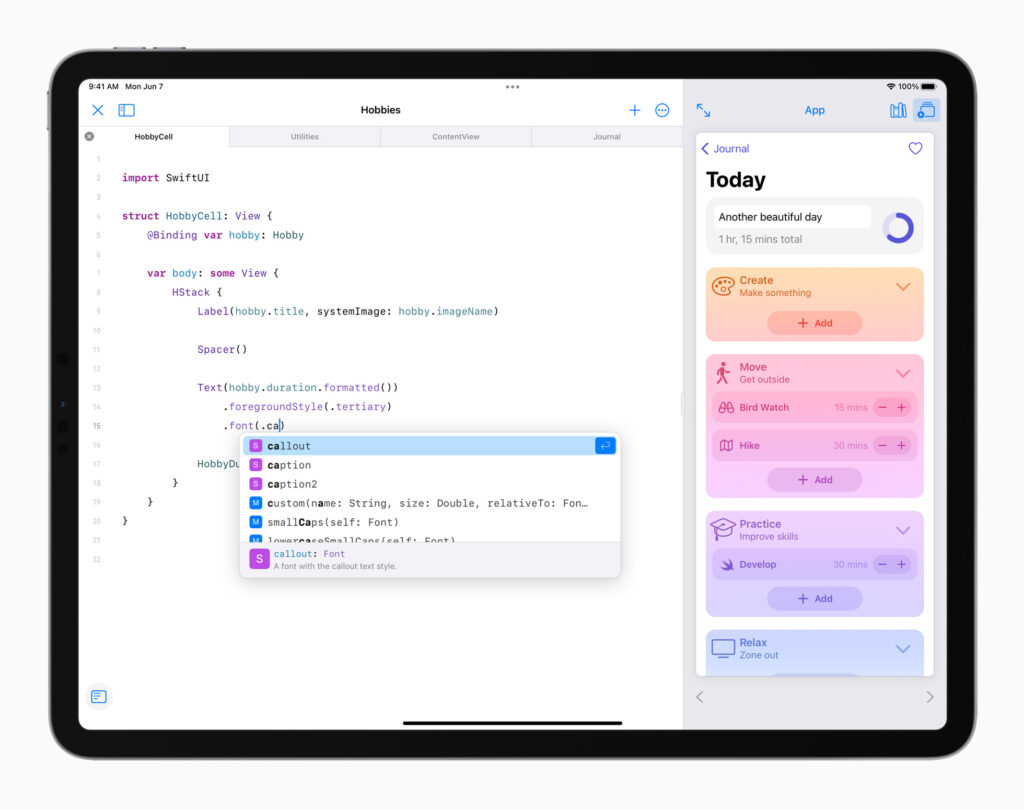 iCloud+ and privacy protection
Apple continues to adding privacy features like the new App Privacy Report which shows "how apps are using the permissions you've granted them, which third-party domains they contact, and how recently they made contact."
We are also getting iCloud+ which brings other privacy-oriented features. One of them is iCloud Private Relay, which lets you connect to any network and browse with Safari in a more secure and private way. It encrypts your traffic and uses two separate internet relays so no one can use your IP address, location, or browsing activity. It's similar functionality you'll get with a VPN.
Hide My Email feature generates unique email addresses that forward to your inbox, so you don't need to share your actual email address when signing up for a newsletter, etc. This feature is built into Mail, Safari, and iCloud.
This is a summary of some of the features, but much more is coming with iOS 15, iPadOS 15, and macOS Monterey. There are also Quick Notes, Focus mode, redesigned notifications, Maps improvements, Shortcuts coming to the Mac, just to name a few others. New updates should be available sometime this fall. You can try public beta starting next month.