Prepare for streaming hell
We lived in a golden era of movie and TV series watching thanks to streaming. You could just launch Netflix and pick up your favorites movies. But this era is coming to an end as market is going to be more fragmented than ever.
When you wanted to watch a movie in the past, you had a few options. You could visit a cinema, buy a retail copy on a DVD/Blu-ray or you could wait until it appears on selected TV station. The same went for TV shows, minus the cinema option. But watching every movie in cinema or buying Blu-ray copies is quite expensive and you cannot watch whatever you want and whenever you want on TV Stations. Lastly, there was another option, not exactly legal, but hugely popular – piracy.
But then came something better. Streaming services for movies and TV shows. Well, they didn´t completely wipe out piracy, but it was a better option for many. You could start watching hundreds and thousands of movies and TV shows for a monthly price, which is usually not higher than a single ticket to the cinema.
The rise of Netflix
One of the pioneers in streaming and to this date the most popular video streaming service is Netflix. The company started in 1997 as a movie rental company, but it was not until ten years later, when the streaming has been started. After that, the company started to grow rapidly and currently it has almost 160 million paying subscribers all over the world. And why is Netflix so successful?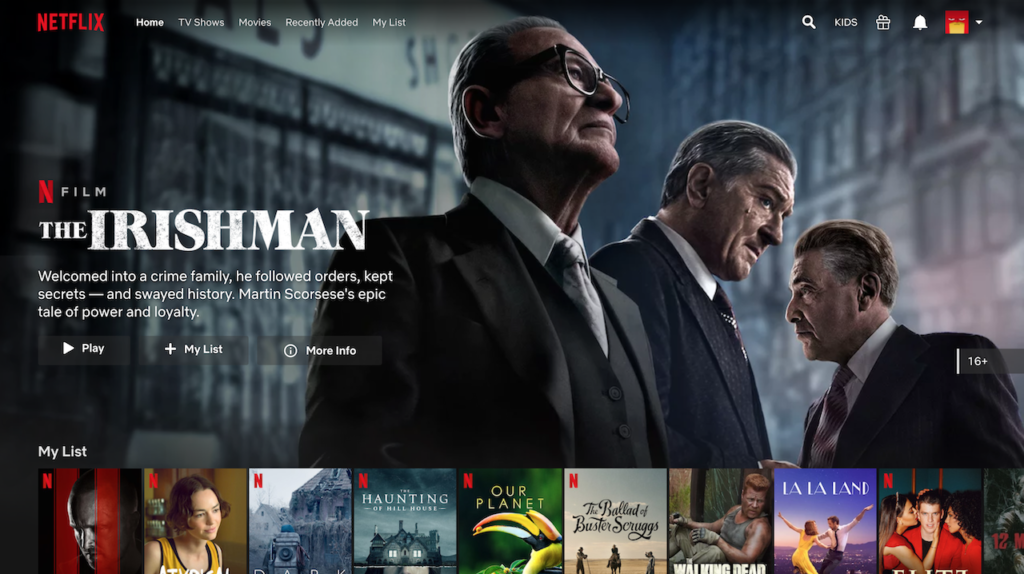 It's a combination of a few factors. The first one is the price. It has three plans ranging from $ 8,99 to $ 15,99 (from 7,99 € to 11,99 €) and they offers video quality starting at SD for cheapest option, then continue with Full HD for mid-tier and all the way to 4K for the most expensive option. And it also comes with support for one, two or four concurrent users based on your tier, so you can choose what suits you the most. For that price you get thousands of video titles. At first, Netflix was streaming only content which was made by other companies and they just bought a license. But then, the breakthrough came in 2013 with the production of original content, starting with hugely popular series House of Cards. The company began paying billions of dollars every year for making their own content, which led to creating massive hits like Narcos or Stranger Things.
Therefore it is no surprise that the service is so popular. Not only it offers many blockbusters and independent movies from renowned movie companies, but it also has original content, which can be found nowhere else. And at the end, you can watch it wherever and it has no ads. Netflix streaming is available through web browsers and apps on the smartphones, tablets, game consoles and various TV sticks and streaming boxes.
The competition emerges
The success of Netflix has not stayed unseen. Other big players in the tech or movie industry quickly came up with services of their own. Hulu and Amazon Prime Video started almost simultaneously with Netflix. In 2010 a premium cable and satellite television network HBO launched HBO GO. They also offer licensed content along their own acclaimed series such as Game of Thrones and Chernobyl.
Although Netflix is the biggest one, the others were also quite successful and some people were also keen on paying for more than one video streaming service. It motivates other huge firms to come up with their own streaming services and cut some piece of the pie for themselves. I am talking about Apple and Disney. The former is one of the biggest tech companies in the world and the latter is well known movie company which also owns massively popular brands like Marvel or Pixar.
Both of them launched their services only recently. Apple TV+ is live from 1st of November and Disney+ from the 12th of November. Apple currently offers only original content, which consist of eight titles, so it is not really a competition for now. But Disney is a real threat for Netflix and others. It offers Star Wars movies, basically every superhero movie from Marvel and also cute Pixar movies. We can expect a race between all of these streaming services which are going to produce as many original content as possible.
What does it mean for users?
The question is, what all these new streaming services mean for subscribers. On one hand, we will benefit from a bunch of upcoming original movies and TV series, but on the other hand I am scared of the negative consequences. Let me explain. Until now, you could find Star Wars movies, Marvel movies and Pixar movies on Netflix and other services. But now, when Disney+ was launched, it does not make sense for them to provide biggest blockbusters to their competition. They will stop licensing it and will offer these titles exclusively on their own service.
In the near future we can also expect other big companies from movie and TV industry to come with their own services and they will do exactly the same step. We got used to have everything in one place, on one streaming service. But the golden age of streaming era is over, at least from a subscriber point of view.
Do you want to stream newest Star Wars series, Game of Thrones prequel, next session of The Boys or Stranger Things? Well then you must pay for four services. Suddenly it's not that cheap and beneficial. I won't be surprised if piracy starts to gain popularity again. Prepare for streaming hell – if you want to see everything, you will pay for that and you won't find everything in one place. You will be switching from one app to another. Sounds familiar?