Smartphones are getting too big
Smartphone screens have become brighter, sharper and even more fluid with latest high refresh rate screens, in recent years. And also their displays got bigger. Which means the dimensions of the phones themselves got bigger too. And now it's harder than ever to find a truly compact smartphone, which also happens to be good in terms of specs.
Look at the first mobile phones, they were huge and heavy bricks. But they started to shrink every year. Soon we've got the point of truly compact mobile phones, which were easy to carry in a pocket without barely noticing their weight. Remember the golden age of Nokia? But shortly after, the color display came and most importantly, in following years we were introduced to touchscreen displays in phones.
With a touchscreen, you simply needed a different interface and more space for better controls. And phones have suddenly become smart, so their purpose wasn't just making calls anymore. They've become multimedia devices and we use them for browsing the internet, watching movies or YouTube videos, listening to music, taking photos and much more. And that wouldn't be very practical on 2" screens, so of course they started to get bigger again. But the question is, aren't they too big now? Is it possible these days to buy a compact smartphone? Well, let's see.
Smartphone screens in today's flagships
I was shocked a couple of days ago when during the announcement of the latest OnePlus smartphones the company representative called the OnePlus 8 as a compact version of OnePlus Pro 8. The OnePlus 8 is indeed smaller than 6,78" Pro model, but with 6,55" it's nowhere near compact. A few years ago you would call that phone enormous and even with today's standards it's still a big phone. It's even bigger than the biggest iPhone.
So let's look at the display sizes of today's flagship phones. Samsung has three phones in the latest and greatest S20 series. Samsung S20 with 6,2", S20+ with 6,7" and S20 Ultra with 6,9" screen. There is no phone in their high-end lineup with a screen under 6 inches. Not long ago, screens this big were reserved for their Note line, but now their main series catch up to that.
Then you have iPhones. The latest 11 series also has three phones: iPhone 11 Pro with 5,8" screen, iPhone 11 with 6,1" screen and iPhone 11 Pro Max with 6,5" screen. They are not as big as Samsung phones, but you got the picture. The iPhone 11 Pro is the one that keeps it under 6", so it's definitely the smallest of today's flagships, but it's still pretty big. And yes, there is new iPhone SE, but I will talk about that one later.
What about other manufacturers? Huawei P40 (6,1"), Huawei P40 Pro (6,58"), Xiaomi Mi 10 (6,67"), Pixel 4 (5,7"), Pixel 4 XL (6,3") and Sony Xperia 1 (6,5"). So if I'll calculate the mean value based on these phones, then the average screen in flagship phones is 6,38". So what are the options for people who prefer small phones?
Is it possible to buy a good, compact phone?
Actually, there are not many options. The smallest from the flagships is the iPhone 11 Pro with a 5,8" screen and total dimensions: 144 mm x 71,4 mm x 8,1 mm (5,67 inches x 2,81 inches x 0,32 inches). Weight is 188 gram (6,63 ounces). It's not small or light, but it's the smallest from the high-end phones. If you are wondering, why I am not mentioning Pixel 4 with a 0,1" smaller screen than the iPhone 11 Pro has, it's because Pixel 4 has a pretty big upper bezel so the whole phone is taller than the iPhone.
Then there is another option. Apple a couple of days ago announced a new iPhone SE with a 4,7" screen. Yes, it's bigger than the last 4" iPhone SE, but it's now probably the most compact phone you can get. Good thing is, that the new SE has the latest A13 processor, which is the same as you find in the 11 series. You also get a good camera. So this may look like a good deal, high-end phone in compact body. But, this body is like 6 years old. Every smartphone on the market now is trying to have a bezel-less screen with display covering most of the front surface.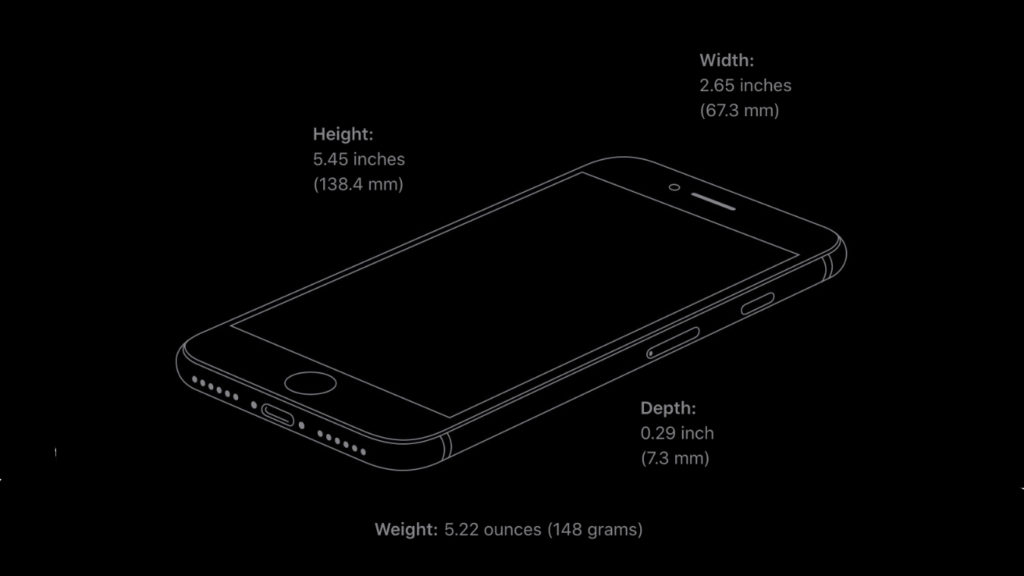 But the iPhone SE has two large bezels on top and bottom, it's basically almost the same design that Apple brought with the iPhone 6 in 2014. And at the time it looked good, it has become a classic iPhone design for years. But now it simply looks old, when you compare it to the latest phones. And maybe you don't care about the design, then good for you, you just found a compact phone that will suit you well.
Funny thing is, that 4,7" iPhone was in 2014 the first big phone from Apple, now it's the most compact iPhone. Times are changing. And what about compact Android alternatives? They are non-existent.
Why would someone want small phones anyway?
Another question you can ask is, why bother with making small phones, when it's much better to watch videos, chat or make photos with a bigger screen. However, now it's now not as easy to control a phone with one hand, as it used to be. With some phones it's almost impossible. And especially for people with small hands. Those are the people who would prefer smaller phones, but that market is no more.
Big phones are also heavy phones and you feel that weight every time you put the phone into your pocket. With 226 grams (7,97 ounces), the iPhone Pro 11 Max is twice as heavy as iPhone 5S with 112 grams (3,95 ounces).
I have no problem with bigger phones, I like the space bigger screen offer. But I would like to stay somewhere near 6", it's crazy to see phones getting bigger and bigger. Screen with 6,9" in smartphone? This was tablet size just a few years ago. And I would also appreciate, if there would be phones with about 5" screens so everybody can choose what suits them best. But I don't know if the demand is too low, or companies simply don't care. So rather get used to those big screens.