Future of Mac is here – starting with Apple M1 chip
In June on WWDC Apple announced Mac transition to Apple Silicon – custom chips on ARM architecture, similar to what we find in iPhones and iPads. And this transition is beginning now with the new Macbook Air, Macbook Pro and Mac mini.
Apple has been using Intel processors in their computer line-up for years. Now, they are ditching Intel to replace them with their own chip architecture, called Apple Silicon. The first computers to run on Apple Silicon will be Macbook Air, Macbook Pro and Mac mini. They were just announced on today's Apple Keynote. It's been a busy autumn for the Cupertino company, starting in September with announcing Apple Watch 6 and SE, and new iPad Air. In October they announced the new iPhone 12 series and now they are ending the product year with Macs.
M1 chip for new Apple computers
Apple introduced three new Mac computers – Macbook Air, Macbook Pro and Mac mini, and all of them will run on the same M1 chip. It's the first Apple chip for Macs and by the company's own words: "it's by far the most powerful chip Apple has ever made". M1 chip is built with a 5-nanometer process and it should deliver up to 3.5x faster CPU, up to 6x faster GPU and up to 15x faster machine learning performance than previous Macbooks with Intel chips.
M1 processor contains an 8-core CPU with four high-performance cores and four high-efficiency cores. Then there is 8-core GPU, which should be by Apple words "the world's fastest integrated graphics in a personal computer". This chip should be not only powerful, but also power efficient. On the graphs below Apple is saying that M1 should provide 2x faster CPU performance than latest PC laptop chips while using only 25% of power. It should also provide twice as fast GPU performance while using only 33% when compared to latest PC chips.
These numbers definitely sound impressive. But we'll need to wait for some tests to see how the M1 chip will compare with Intel processors in real life scenarios.
Huge gains for battery life
Thanks to the power efficient 5nm processor, we are also getting huge battery life improvements. Apple promises up to 17 hours of wireless web browsing and up to 20 hours of video playback for Macbook Pro. In case of Macbook Air we should expect up to 15 hours of wireless web browsing and 18 hours of video playback. These are also very impressive numbers. In case of Macbook Pro we should get twice the battery life when compared to the last model. But another interesting fact is, that Macbook Pro will now last longer than Macbook Air. It was always the exact opposite – Macbook Air used to score better in the battery field.
There are a few other changes as well. Macbook Air is now thanks to chip thermal efficiency completely fanless – meaning also completely quiet. Let's just hope there will be no thermal issues. And Air is also getting P3 wide color gamut which means 25% more colors than sRGB. Upgrade for Macbook Pro is with the microphones, we are getting a three-mic array with "studio quality". So probably similar microphones that are on Macbook Pro 16 from last year. Both Macbooks have Wi-fi 6 now.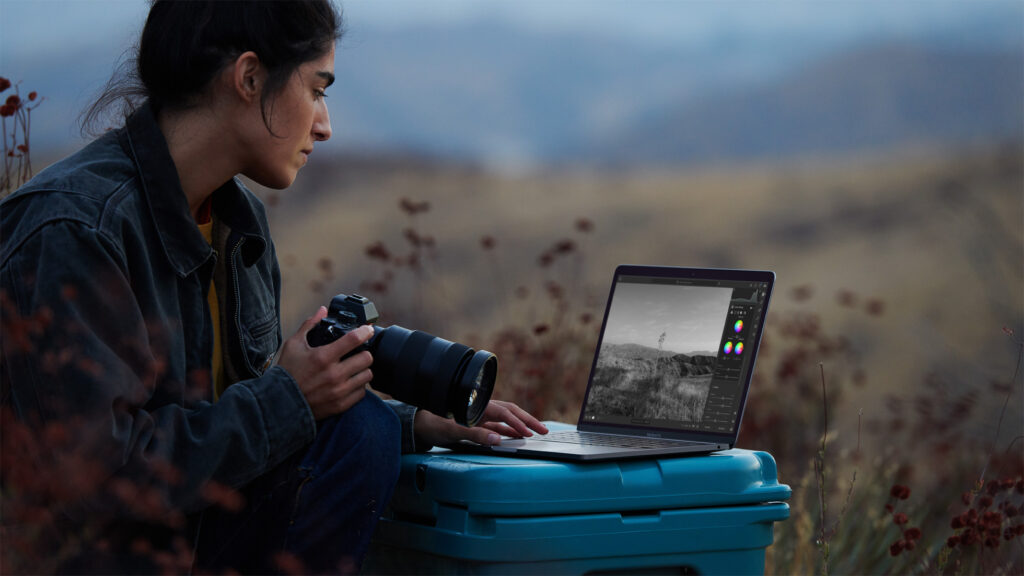 What are the other new features? Well, there is not much else. Design is exactly the same as it was for a couple of years. Price is also staying the same for Macbook Air (from $999) and Macbook Pro (from $1299). But the Mac Mini is now $100 less than previous model, starting at $699. It's a bit of a shame that Apple didn't at least shrink those display bezels a bit on a Macbook Pro and Macbook Air. It would be nice to see a design change coming with the new M1 chip, especially for a Macbook Pro which has the same design from 2016. But I guess we need to wait one more year for that.
Plenty of potential
M1 chip is bringing Macs to a new path. It will be interesting to see a direct comparison between these Macs and Intel or AMD powered laptops. How will they compete in various tasks like graphics or video editing, coding or let's say gaming? Macs were never gaming machines, but Apple also showed a glimpse of Baldur's Gate 3 playing on fanless Macbook Air. And that would be very interesting. So can't wait to see these machines in the wild.