Microsoft is making dual-screen laptop and smartphone
Microsoft Surface October event was full of new devices and among the traditional and expected computers we also get a look at new dual-screen Surface Neo and Duo.
It was quite busy day for Microsoft. They announced expected refresh for a Surface Laptop and Surface Pro, but we got also some surprises like Surface Pro X, an ARM-powered 2-in-1 device or Surface Buds which are first true wireless earbuds from Microsoft. But the most interesting devices are the ones which don't ends up on shelves this year. Surface Neo and Duo are dual-screen devices and both represent a new vision of computing from Microsoft. One of them is laptop/tablet hybrid, the other one is surprisingly a new attempt in smartphone waters.
Surface Neo – future of laptops?
More than ten years ago Microsoft showed a Courier concept, a PC with booklet form and dual touchscreens. But it was way ahead of its time and the concept was cancelled in 2010. We had to wait until now, when the Microsoft showed us a resurrected dual-screen device, now under the name Neo.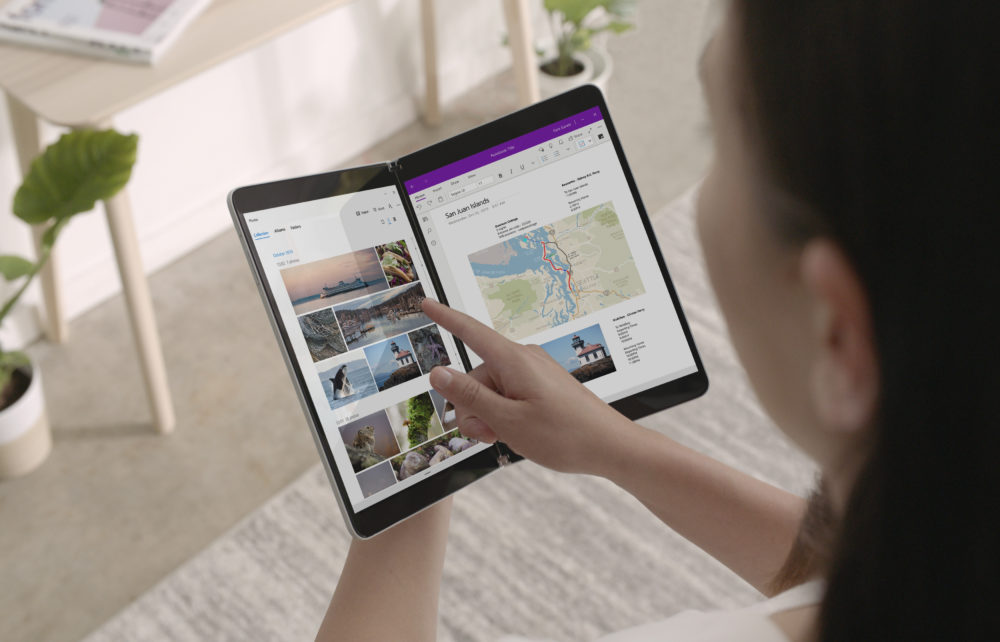 It's hard to define a product category of Neo. Is it laptop or a tablet? Well it is a dual-screen device which can be both and probably it's a start of fresh new category as we can expect other similar devices from manufacturers like Asus, HP, Lenovo or Acer. Neo will run Windows 10X which is basically redesigned Windows 10 for dual-screen and foldable devices. It has two separate 9" displays but when you fully open the device you will get a 13" surface which can be used as one screen.
Use it any way you like
With Neo comes a flexibility of use cases and people can use it in a number of ways. It can be a classic laptop with digital keyboard on the bottom screen or you can even connect a physical keyboard to it. Microsoft has its own keyboard which attaches to Neo magnetically. The system then automatically recognize it and the rest of the bottom screen adapt to this new setting. And you get something like bigger Touch Bar known from Macbooks Pro.
You can also use Neo as a tablet with one big 13" screen, as a book for reading eBooks or you can use it for presentations. It has a 360-degree hinge so it is possible to fold it in a way when you create a tent shape with screens on the outsid. So people can see content even when they facing each other.
There is a lot of potential in Neo and similar devices which will probably flood the market next year. But still a few questions remain. Will it really be better and more useful that current laptops or tablets like iPad Pro? What battery life can we expect? From the pictures it looks pretty thin and two screens will drain a lot of power. How powerful it will be? How will Windows 10X work? Will it be fluid and intuitive or can we expect lot of bugs at the beginning? And at last but not least what will be the price? For now we can only speculate and wait until end of the next year when the Surface Neo hit the shelves.
Back to the smartphones
Surface Neo was not the only dual-screen device at Microsoft's presentation. We also get a look at Surface Duo, which looks like a shrunken Neo and it is a smartphone. Yes, Microsoft is making a smartphone. But don't expect that it will run a Windows Phone, an operating system which launched at 2010, was surviving for couple of years and now is effectively dead. Instead, it runs on Android, probably with some heavy modifications and a bunch of Microsoft apps preinstalled.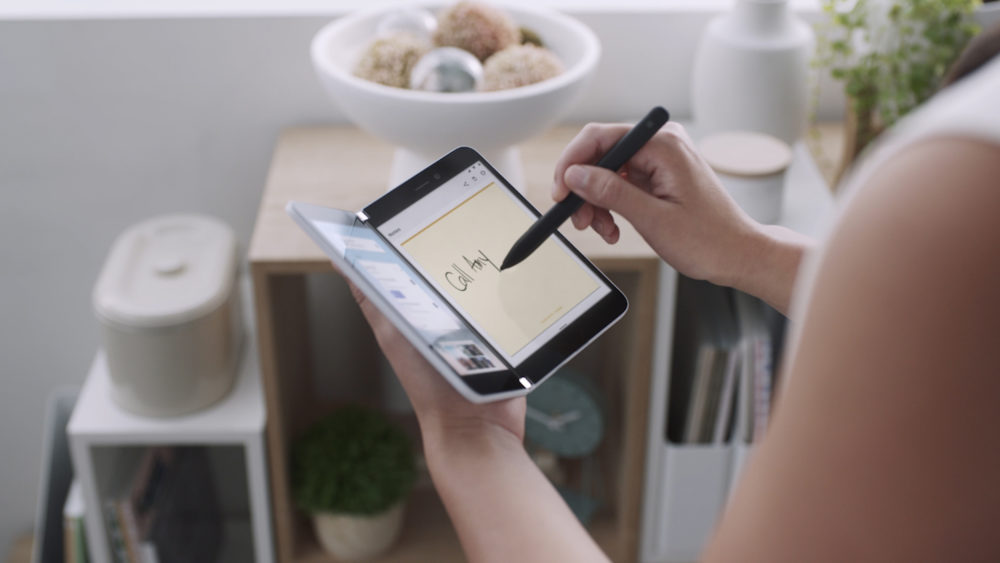 Duo will have two 5.6" displays which create one 8,3" inch screen when fully open. It has also a 360-degree hinge so you can use the device in any way you want. For more information we also need to wait. But these news looks exciting and it's good to see an innovation taking place, because traditional laptops and tablets might start to look pretty boring.