Messaging apps: there is more than Messenger and iMessage
You are likely using the messaging app most of your friends have, but it may come in handy to know some alternatives.
In the era of smartphones and mobile internet people are widely using a variety of messaging apps at the expense of SMS and phone calls. You can choose from many options on every platform. Today's messaging apps support apart from texting also calls, videocalls, voice messages, GIFs, sending pictures and videos. Plus is that most of them are free and you can stay in connection with all your friends.
If you live in the US or Europe, you are presumably using Facebook Messenger, WhatsApp or iMessage. WhatsApp is currently the most popular messaging app with 1,6 billion users worldwide. Messenger is slightly behind with 1,3 billion users. Fun fact: WhatsApp is also owned by Facebook. If you are an Apple user you may also use iMessage which is integrated directly into Messages app on Apple devices.
These are the apps you probably know and use. But there are also some other viable alternatives which may be worth your attention.
Telegram
Let's start with my favorite – Telegram. It's not the only messaging app I use but I like this one the most. You can find it on any platform. It has dedicated app for Android, iPhone, iPad, PC, Mac and also Linux. And if you want, there is also a web version. Telegram is also fast and secure. Basic chats are cloud-based so you can access your messages from multiple devices. But you can also start secret-chats which are end-to-end encrypted so your communication leave no trace on company severs. To have even safer conversations it is possible to set up a timer for destruction of your message.
Another fine feature are groups up to 200 000 members which you can join and start discussing with other people about group topics. With Telegram you can also send audio and video messages, files and even share your location. And one thing I especially like on Telegram are Stickers! It may not be the feature you care about, but hey, who doesn't want to send funny stickers of Bill Gates, Elon Musk, The Witcher or Donald Trump.
Signal
If you care about privacy, another strong candidate is Signal. Its messages and calls are always end-to-end encrypted and you can also let messages disappear. Signal uses Open Source encryption, it's free and without ads. It is a choice for many cyber security experts and even famous whistleblower Edward Snowden recommends it.
You can download Siganl into your smartphone with Android or iOS and there is also a version for computers.
Viber
Viber is similar to WhatsApp, also popular between hundreds of millions of users and it has a lot of features to offer. You can count with audio and video calls, instant voice and video messages, plentiful of stickers and GIFs, chat extensions and groups for shared conversations with friends. If there is any messaging feature you want, Viber got you covered.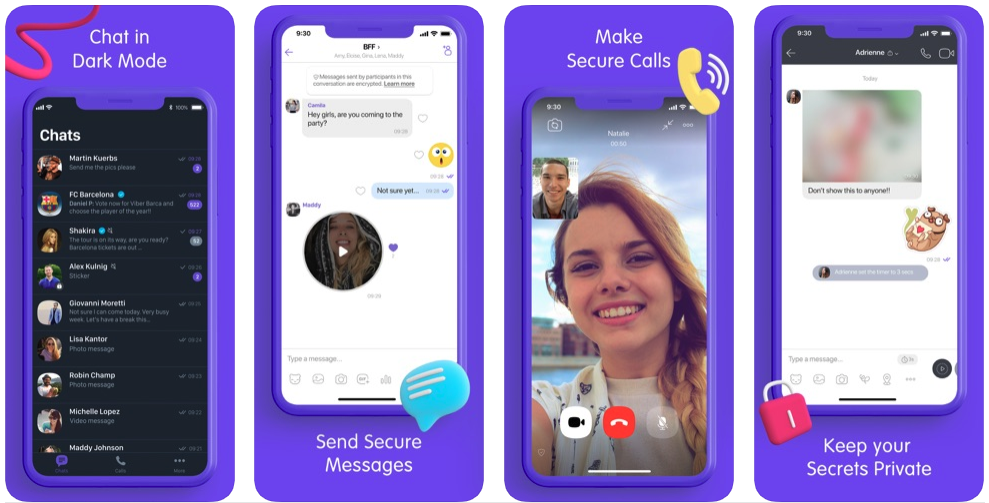 It is also widely available on the most popular mobile and desktop operating systems. According to Viber's website it has an enhanced security features like end-to-end encryption, security keys for verifying the identity of people you chats with, hidden chats and self-destructing messages.
Threema
Last chat app from our list is the only one which is not free. It costs $2.99 as a one-time purchase and it has no ads. The main selling point of Threema is security. This is probably the most secure messaging app you can get on your smartphone. It does not require a phone number or email address to sign-up. Instead, each user gets a Threema ID, which is a randomly generated 8-digit number so you can stay completely anonymous.
Threema also uses end-to-end encyprtion for voice calls, messages, group chats and files. Company is based in Switzerland and they do everything in-house. If security is your main concern, Threema is your safest option.