How to buy Bitcoin and other cryptocurrencies
Bitcoin is rising again. It has already overcome its all time high from December 2017, when the price stopped just under the $20 000. Today is reaching for $30 000 and hype is starting all over again.
There is a good chance you already own some crypto. But if not and you are thinking about getting some, but don't know where to start, I'll show you some options. However, this is not a recommendation to buy cryptocurrencies. It's still a highly volatile and risky asset. So you should invest only what you can afford to lose. There are some predictions that Bitcoin can rise to $100 000 or even $300 000, but no one knows that and there is also a possibility that it could fall down to $10 000 or $1000.
There are a lot of platforms and exchanges where you can buy Bitcoin and other cryptocurrencies as well. In this article I am going to write about the ones I tried.
Coinbase
One of the most popular and easiest to start with is Coinbase. You can simply download the app for your smartphone, create and account, provide an ID and start trading in minutes. App is easy to navigate and has a minimalistic design. Coinbase is available in more than 100 countries and it has more than 35 million users.
You can buy about 50 cryptocurrencies on Coinbase. Considering how many cryptocurrencies exist, this selection is limited. But the most popular ones like Bitcoin, Litecoin, Ethereum or XRP are there. When you are just starting with crypto, Coinbase is probably a way to go. As a main disadvantage of this platform I see fees. They depend on the sum you are trading and are pretty high when trading lower sums.
Bitstamp
Another good option is Bitstamp. It is still intuitive and also provides a mobile app which is very convenient. Fees are lower than on Coinbase, but the selection of crypto is even more limited. You can only trade Bitcoin, XRP, Ethereum, Chainlink, Litecoin, OMG Network, Bitcoin Cash, Stellar Lumens, USD Coin and Paxos Standard on Bitstamp. But again, the most popular are there.
Buying cryptocurrencies on Bitstamp is easy, it also supports credit card deposits but in that case fees are much higher compared to bank transfer.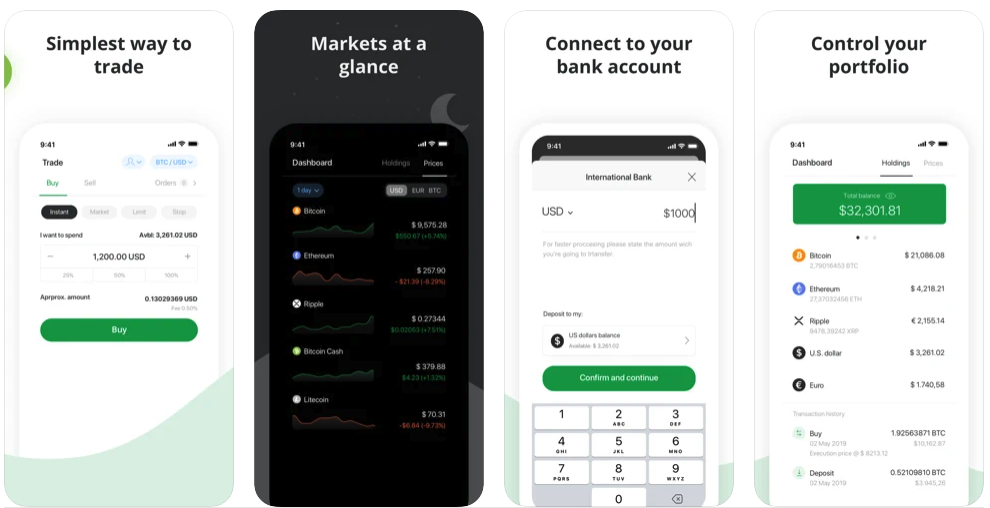 Bitfinex
Bitfinex is aimed for more experienced traders. You will find a lot of cryptocurrencies there and the platform will give you a complete overview with all the graphs and data you will need. You can customize the interface to suit your needs.
Bitfinex also offers advanced trading features such as margin trading and there are ten different order types.
HitBTC
And the last exchange I tried is HitBTC. It is similar to Bitfinex, also aimed at more experienced traders. It started in 2013 and today offers plenty of cryptocurrencies to buy. So if you want to buy more than just Bitcoin or Ethereum, you may find it on HitBTC. 
And if you want to check the current price of whatever cryptocurrency, I recommend the website CoinMarketCap for that. It's a list of probably all cryptocurrencies sorted by market capitalization.