Everyone's chatting on a daily basis, but sometimes it's good to talk face-to-face and to see each other. Now it's true more than ever. During this pandemic, the video chat apps are rising in popularity and they've become an essential part of people's smartphones. Here are some tips for such apps, so you can stay close to your friends and the loved ones, even when you are far away.
There is a good chance you've already had installed an app with video calling capabilities in your smartphone. If you are deep in the Apple ecosystem and so are your friends, then you probably use FaceTime, which comes pre-installed in Macs, iPads and iPhones. Facebook's Messenger is another popular way for video chatting, because that's the place where all of your friends are. Same goes for WhatsApp. Skype was once the synonym for video calling, now it lies in the shadow of more popular apps. But it still has some fans and it is popular in the commercial sphere.
These are the apps you know and use. But there are some other or new options, some of them you may or may not have heard of. Let's talk about them. If you want to try something new or you are not 100% satisfied with your current video chat app, then keep reading.
Zoom
Okay, you've probably heard about Zoom. Its popularity skyrocketed in March, everyone was talking about it and tens of millions people were (and still are) downloading it. Zoom is the new Skype. It's a popular video-conferencing tool for workplaces and professionals, but you can also use it for video chatting with friends. There is an app for your computer and smartphone, but it is also possible to make calls via a browser.
With Zoom you can also share your screen, use any picture as a background, but on the other side, if you are using a free version, there is a 40 minutes limit to group calls. There were also some security concerns, but the company is quickly pushing updates to address this issue.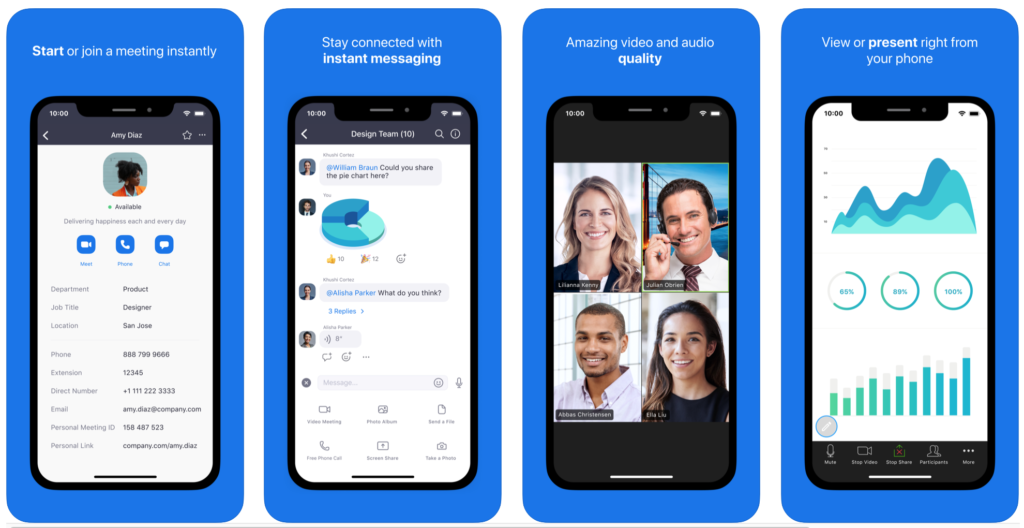 Marco Polo
Although Marco Polo has been around for years, it also gained popularity during COVID-19 pandemic. It's a simple and straightforward app for video chatting with your friends and family. You can have a video call one on one or in a group. In case you have no time for calling, you can record a short video story and send it to a recipient.
Funny doodles and voice filters are not missing so feel free to brighten your call. You can download the app for Android and iOS. It's free with no ads, but there is also a premium version which lets you keep your video messages.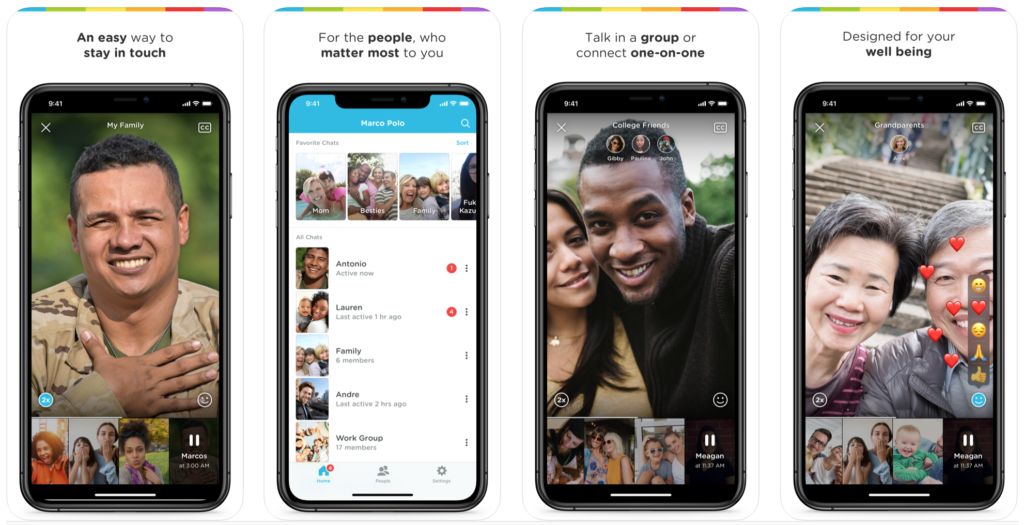 Houseparty
I know that you would like to throw a party at your place and invite all the friends. But that's not possible under the current circumstances. At least you can have a party in an app called Houseparty. It offers video calls with friends, but not just with them. You can invade the conversation your friend has with someone else, so you may end up talking with people you don't know. If you are not in a mood to socialize, just lock your room and it becomes a party only for the invited.
The app was bought by Epic Games last year and you can actually play games like trivia, Heads Up! or Chips & Guac inside the app. You can download it for free on your smartphone with Android or iOS. There is also a version for macOS and Chrome browser.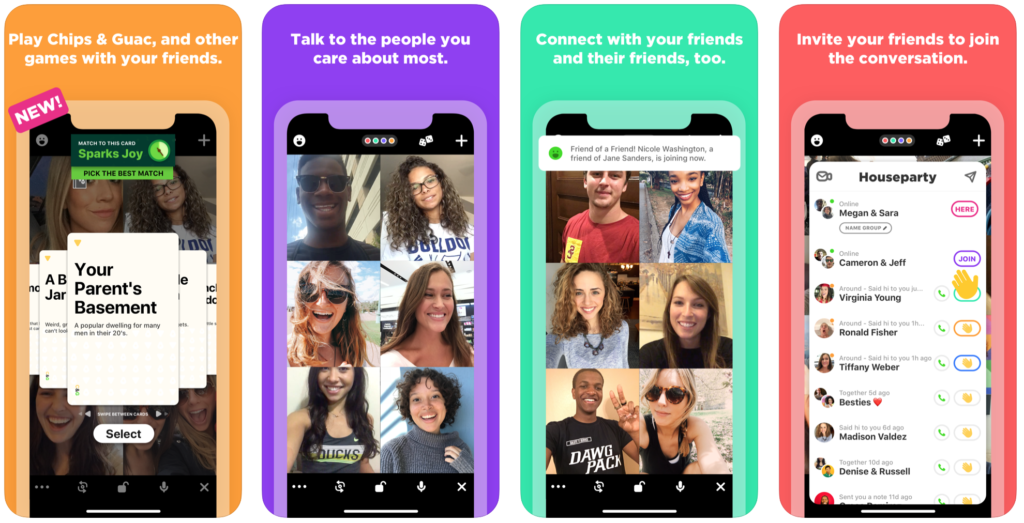 Google Hangouts
It's easy to get lost when it comes to video calling apps from Google. There is a Google Duo, Google Hangouts Meet and Google Hangouts. First one is a competitor for FaceTime, second one is for businesses and Google Hangouts it's something in between. It can be used for personal or business purposes. The best thing is its simplicity. All you need is a Gmail account, then you just go to Hangouts website, start a call and invite people with a link or through Gmail. Simple as that.
One of not many features is the screen-sharing. There is an app available for Android and iOS and of course, you can use it for free.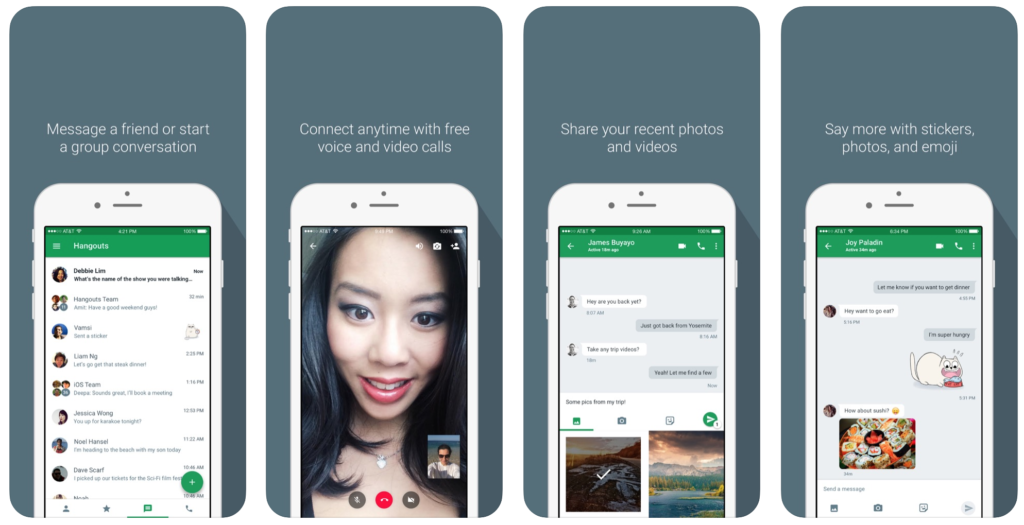 Discord
Discord is a service mainly for gamers, but everyone can use it for video calls or chatting. You can create custom channels for different topics or different people. It's very well suited for communities, not necessarily just for gaming ones. You can use Discord in your browser, but there is also an app for Android, iOS and computers – Windows, macOS and Linux.
You may also want to check some tips for messaging apps.