Essential apps for my smartphone (Part 2)
Over a hundred apps are lying on the home screen of my iPhone. But some are used more than others. Here are the five of them which I consider being essential to me.
This is the second part of the essential apps article, head to Part 1 if you want to find out which are the other apps I frequently use. Without any further ado let's get to the apps, which are getting the most taps from me.
What's the value of the stock
Yes, Apple's basic Stocks app is the one I check daily. It offers a nice overview of the stocks I want to follow with their current values and gains/losses. When I click on the specific stock I can see the graph with periods ranging from one day to 5 years. I am also getting financial news from publications like Yahoo Finance.
Whether you are a beginner investor or just want to have an overview of how your favorite companies are doing, the Stocks app is the right place. There is also the possibility to follow cryptocurrencies or ETFs. Another plus is that stocks I follow are synchronized to the same app on Mac and iPad.
Entrance to the crypto world
Coinbase represents one of the easiest ways to start buying cryptocurrencies and it's also one of my essential apps. Apart from the biggest cryptos like Bitcoin, Ethereum or Litecoin, there are about 50 others. Buying is easy and straightforward, although fees are rather high.
I don't use Coinbase only for buying, but also for checking the prices of crypto. It's very convenient that there is a tab in Coinbase which shows even the prices of cryptocurrencies that aren't tradeable in the app. After tapping on specific crypto, the app will also show the basic info, market stats, and news related to it.
Privacy and protection
Using a Virtual Private Network (VPN) can be beneficial for many reasons – like privacy and protection. I am using the one from Surfshark. If you've never heard of VPN, it's a service that "allows you to connect to the Internet via an encrypted tunnel to ensure your online privacy and protect your data."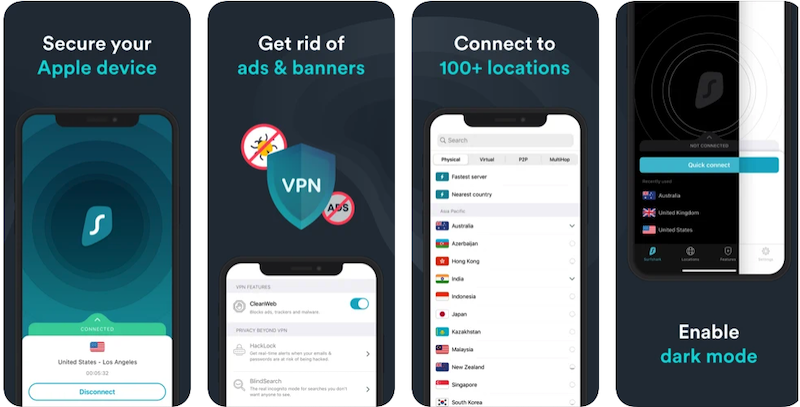 I am using a VPN whenever I am connecting to public Wi-Fi so I can stay safe from potential data theft and other threats from hackers. With VPN I can also gain access to the websites or services which are otherwise restricted in my country. Surfshark is also blocking ads and trackers, so I can browse the web privately. In the app, there are 65 countries to choose from for rerouting my traffic.
Clean and smart email
There are a lot of email clients to choose from, but Spark has been my favorite email app for years. I like its clean visuals and features like Smart Inbox which prioritize messages from real people and show them on top. Notifications and Newsletters are split into their belonging categories.
I can snooze emails to handle them later, or schedule my emails to be sent at the time I want. Another useful feature is Smart Search, which allows me to search messages with more natural language. And there is also a built-in calendar. Spark is an email app that I can recommend to anyone and one of the most essential apps on my device.  
Best way to chat
I am using more than one messaging app, but Telegram is the one I am opening the most. I like its focus on privacy with secret chats and self-destructing messaging. It offers simplicity and by far the best stickers you can find in any messaging app. Telegram also has an app for Mac and iPad which is very convenient for me.
 There is also the possibility to create groups with up to 200 000 members. You can also have small group chats with your friends. And recently video calls have become available in the app, so there is probably every feature you can ask for. You just need to make sure that your friends are also there.