Sony finally revealed new PlayStation 5
We had waited for a long time until Sony unraveled the design of their latest gaming console – PlayStation 5. But that wait is over now and the console war will begin soon.
New generation of gaming consoles is coming. Microsoft took the initiative and showed us the new Xbox One Series X back in December. Sony took a slower approach and until last week we only knew how the controller will look and what's inside the console, but the outside look was a big unknown. And we also didn't know which games could be expected at launch.
Futuristic design
The presentation Sony held last week showed us a bunch of upcoming games and at the end we've finally got a look at the design of the device. PlayStation 5 looks distinctive, bold and futuristic. It's a modern design which is also divisive – some people love it and some people hate it. It will stick out in your living room and not only because of its design, but also by its size. We don't know the official measurements yet, but by some estimates accumulating on the internet it's going to be big. Bigger than Xbox One Series X or any other PlayStation console.
When we compare the design of the PlayStation 5 with the latest Xbox, they couldn't be more different. Microsoft is betting on a conservative blocky look with traditional black color. Sony's new console is mixing black and white color with blue backlight. And I think it's going to catch more attention on the shelves than Xbox One Series X.
Two versions
What may come as a surprise is that PS5 will be available in two versions. One of them is called PlayStation 5 Digital Edition and as the name says, it won't come with a disc drive. And I like the design of the discless version more, because it's symmetrical. The regular PS5 has a slight bulk at the bottom right part where the disc drive is located.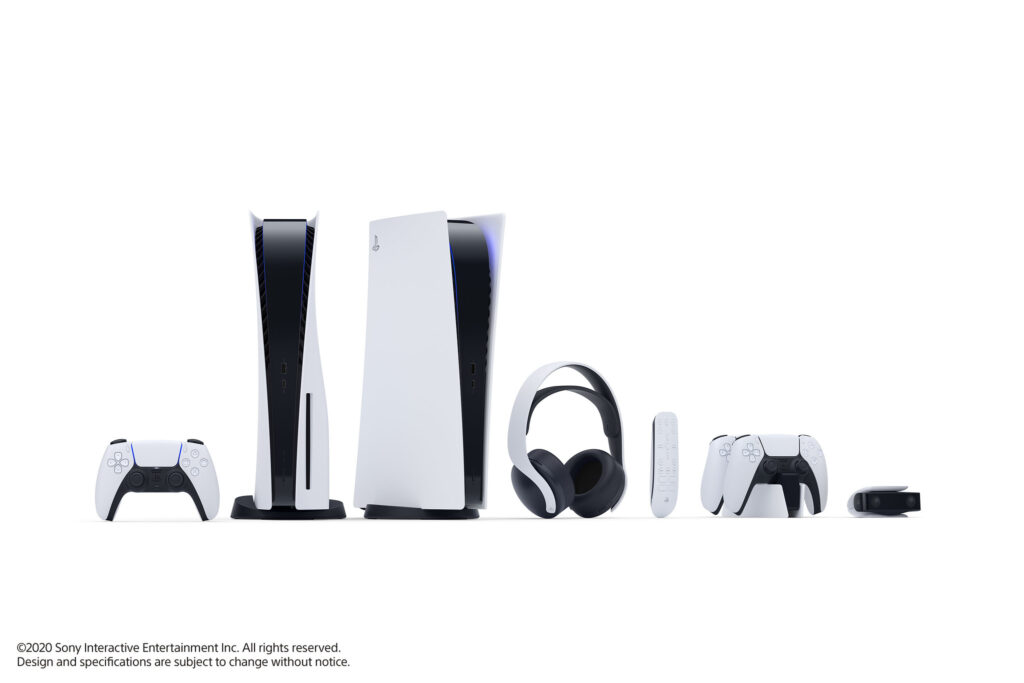 Two versions make sense. People are more and more buying games digitally and for some Blu-ray mechanic isn't a necessity. Disc-less version will be for sure cheaper, which may give Sony a competitive advantage over Microsoft. It's also good for consumers, who can make a choice based on their budgets. Although we still don't know how much both consoles will cost.
Apart from the console itself, Sony also revealed accessories like 3D audio headset, HD camera and media remote.
What games can we expect?
The whole presentation was mainly focused on games so it's no surprise that we saw trailers or gameplays from many. I am not going to mention every game (you can check the whole presentation on Sony's YouTube channel), but only pick the ones that catched my interest or are the well known AAA titles.
Spider-Man: Miles Morales
The Spider-Man from 2018 which came exclusively on PS4 was well received and now we are getting another game from the same universe. Although it's not exactly a direct sequel, it's rather a smaller standalone game "in scope of Uncharted: Lost Legacy". And instead of Peter Parker we'll be put into the role of Miles Morales. Great news – it's coming at the end of this year.
Horizon Forbidden West
Horizon Zero Dawn was another acclaimed hit on PS4 and many fans (including me) were happy to see a new trailer for sequel Horizon Forbidden West. Alloy is back and with her also beautiful world filled with robotic animals. Enjoy the trailer.
Gran Turismo 7
It's been a while since the proper Gran Turismo game was released. The latest GT Sport from 2017 had its flaws and the GT6 was released back in 2013 on PS3. So don't worry racing fans, Sony has got you covered.
Ratchet & Clank: Rift Apart
Another big PlayStation franchise which needs no introduction is Ratchet & Clank. Rift Apart will be the latest addition and the trailer shows us the possibility of travelling between worlds. Instant travel from one world to another without any loading times is possible thanks to the fast SSD, which Sony is promoting heavily.
Kena: Bridge of Spirits
One game that especially caught my attention was Kena: Bridge of Spirits. I like the settings and visuals of the game, which look like they come straight from the Pixar movie.
Little Devil Inside
It looks like a strange indie game and I have no idea what it's going to be about. But again, I like the art style and putting that one to my watchlist.
Other games I may be interested in are Project Athia, Returnal, Stray, Pragmata and Resident Evil VIII. I am also curious if Sony has some other surprises prepared and will announce them later on.