Will the next iPhone ship without a charging port?
Apple launched the new iPhone 12 series, which doesn't include charging brick and earphones in the box. And the reason? To lessen the impact on the environment. But it may also point to something else – future iPhones without any possibility of wired charging.
In 2016 Apple removed the 3,5 mm headphone jack from iPhone 7 and called it "courage". People were furious, other companies made fun of Apple. What's the situation now? It's more and more rare to see 3,5 mm jack in smartphones. Other manufacturers come quickly on board. As a solution, they are happy to sell you wireless earbuds, which are more convenient, but also more expensive.
Path to the iPhone without charging port
Now, we are in 2020 and Apple is making unpopular decisions again. On one hand we can agree that taking charging bricks and earphones from every box will save a ton of plastic every year. And people probably have a few compatible chargers lying around in their households.
On the other hand, you may own a much slower charger which will charge the new iPhone for too long. If you want to charge it faster, you still need a 20W fast charger which Apple is still producing. And if they wanted to be more eco-friendly, why not use a USB-C port instead of a Lightning port? It would even increase the probability of having such a charger. Every new Android phone is using USB-C and even Apple's own Macbooks, iPad Pro and recently iPad Air. The reason may be that Apple is planning to get rid of the charging port completely, so why bother with transition to USB-C.
MagSafe as a solution
It may happen next year or in two years, but it seems inevitable. Taking the charging brick from the box is just the first indication. Another is that Apple also introduced wireless MagSafe charger for its iPhones 12. MagSafe will work also with older iPhones and Androids supporting wireless charging. But the iPhone 12 has an array of magnets on the back side to which MagSafe snaps easily. It looks similar to a charger for the Apple Watch, it's just bigger.
It looks like a practical solution and it can be a replacement for regular wired charging in a near future. I can imagine that the MagSafe charger for the iPhone will become similarly popular as AirPods back in the day when the headphone jack was removed. Because of that, I think the next iPhone or the one in 2022 will come without a charging port. There are also already some rumours about that from analysts like Ming-Chi Kuo. And every iPhone Apple is selling now supports wireless charging.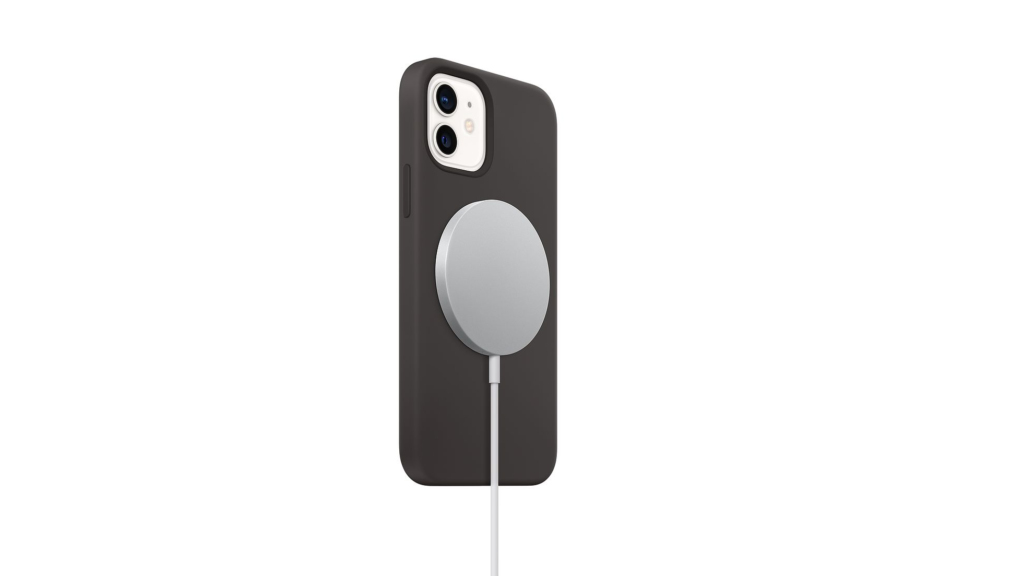 Advantages and disadvantages of wireless charging
Wireless charging can be more convenient. You just simply put your smartphone on the charging mat or in case of MagSafe, magnetically snap to it. With MagSafe there is also the advantage that it is automatically aligned, so you are sure that it is charging. Then there could be an advantage of a removed charging port which takes some space inside the phone. If it won't be there, this space could be filled with something else, maybe slightly more battery. 
But there are also some disadvantages with wireless charging. For now it is slower compared to wired charging. It may change in the future but for now you will charge your phone wirelessly for longer. It is also less efficient, which means it takes more electricity to charge your phone wirelessly, because some of the power is wasted in the form of heat. And last but not least, you will need a wireless charger which is more expensive than a regular charger.
To sum it up, I think the next iPhone will come without a charging port and it will only support wireless charging. There will be outrage and criticism, but other companies will follow shortly after. Wireless chargers will become faster and more efficient over time and people get used to it, as they got used to wireless headphones. And oh, not to forget, there are already concept phones from Vivo and Meizu which have no ports at all.